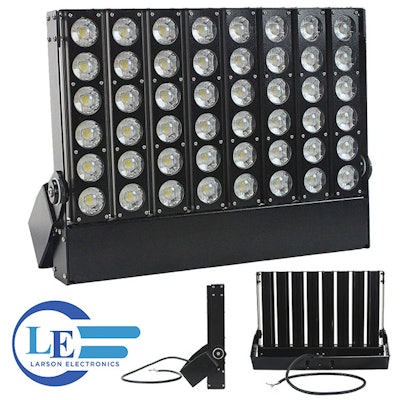 Longtime leader in commercial and industrial grade lighting equipment Larson Electronics continues its commitment to providing high grade lighting equipment to specialty markets with the release of a high intensity 500 watt LED light fixture that is a direct replacement for 1,500 watt metal halide fixtures.
The GAU-LTL-600W-LED-480V light fixture from Larson Electronics produces 60,000 lumens of high intensity light while drawing only 500 watts from a 480 volt electrical system. This high mast LED flood light offers intense light output and is ideal for flood lighting, high mast lighting, light towers, as well as industrial and outdoor lighting applications. Forty-eight CREE high output LEDs producing 963 lumens each are arranged in rows and paired with PMMA high purity optics to produce a well-focused 24° wide spot beam that is ideal for providing far reaching concentrated illumination while still covering a substantial amount of area. This fixture is also available in an optional 10° spot, 34° narrow flood, 60° flood, and 90° wide flood beam spreads. The spot beams are tightly focused and are designed for high elevation mounting to achieve distance, while the flood beams are designed to provide light over a larger area nearer the fixture. This 500 watt high intensity LED light fixture is an ideal replacement for fragile and hot running 1,500 watt metal halide lamps. They offer low power requirements, high durability and a versatile mounting system that makes them a superior lighting solution for demanding applications where power and reliability is critical. Each unit is equipped with a back mount trunnion style mounting bracket that allows the light to be attached to flat surfaces and adjusted through 160° of vertical movement. To adjust the unit after mounting, the user simply loosens the set screws located on either side of the unit, moves it into the desired position, then re-tightens the screws. The base of the mounting trunnion is equipped with several machined slots which allow users to utilize existing mounting holes and slide the unit for precise mount positioning. This light is universal voltage capable and can be operated with 347-480 volts AC without any modifications.
"Our new 500 watt LED light fixture is perfect for retrofitting light towers from metal halide to LED," said Rob Bresnahan with Larsonelectronics.com. "This unit is designed to withstand extreme environments and operating conditions, can withstand rapid temperature changes, and provides a long lamp life."
Larson Electronics produces a wide range of intrinsically safe LED lights, explosion proof LED work lights, portable LED lights, explosion proof flashlights and LED trouble lights. The entire Larson Electronics line of explosion proof lighting can be viewed by visiting Larsonelectronics.com. You can also call 1-800-369-6671 to learn more or call 1-214-616-6180 for international inquiries.