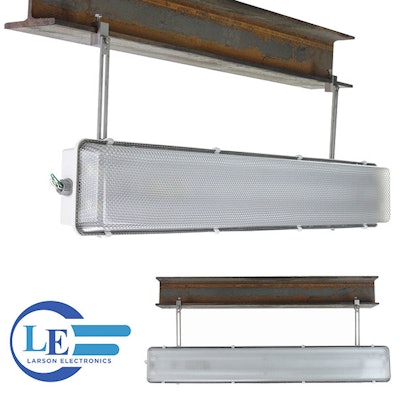 KEMP, TX — Larson Electronics has released a Class 1 Division 2 hazardous location LED light fixture equipped with an aluminum I-beam mounting bracket to allow users to suspend the fixture from beams.
The aluminum I-beam mount hazardous area LED light fixture is specifically designed to handle the rigors of wet and corrosive marine environments. This four foot long, two lamp fixture is ideal for operators seeking a top quality hazardous location light that will improve light quality and reduce operating costs. The I-beam mount is designed for upward lighting for pits in work stations, as well as downward lighting for pipe racks and under shelving. The fixture is constructed of non-corrosive materials including a polyester housing reinforced with glass fiber, a poured in gasket for reliable sealing and an impact resistant acrylic diffuser.
The 28 watt LED lamps included with this fixture produces 3 percent more illumination than standard T8 bulbs while offering lower amp draw and increased reliability. Each lamp produces 3,360 lumens at 120 lumens per watt, for a combined total of 6,720 lumens. With LED lights, there is no warm up time or cool down time before re-striking and they provide instant illumination when powered on.