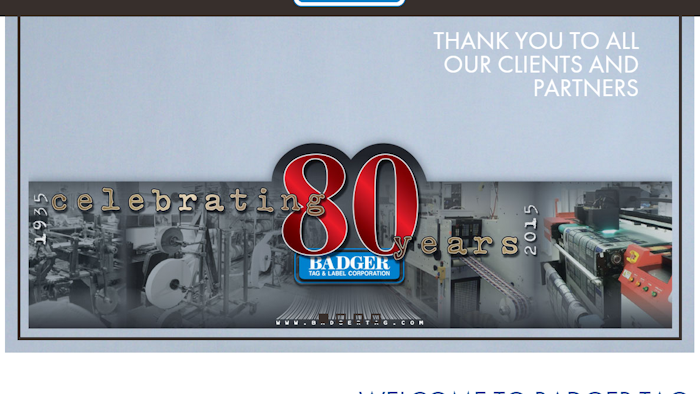 RANDOM LAKE, WI — Badger Tag & Label recently launched a completely redesigned web site and intentionally timed it to coincide with the celebration of their 80th year in business. 
Central to the new site is a photo slider: on the home page for quick navigation to the main areas of interest and on the majority of pages to display visual samples. The abundance of tag and label photos is intended to provide visitors ideas and configurations to assist in the ordering process. New is a search feature, photos, and direct contact links for key staff members, and that the site was developed responsively for tablets and smart phones.
Frequently visited portions of the site have been maintained including the tag size guide, tag and label quote request forms and ordering checklists, and label unwind styles. One area gaining in visits are the videos: tags, labels, and finishing. These two-minute or so videos offer a virtual tour of Badger and are now found in a central access area called Resources.    
Badger Tag & Label Corporation produces tags and labels for customers throughout the nation. Based in Random Lake, WI, the company is a third-generation, family owned, privately held business that began in 1935. Badger prints flexographic and letterpress methods on paper and synthetic stocks and delivers the finished pieces in singles, rolls, sheets, ganged, or fanfolded. They also have UV digital printing capabilities for production of short run and specialty projects.
Call Badger Tag & Label at 1-800-331-4863, e-mail: sales@badgertag.com, or visit www.badgertag.com