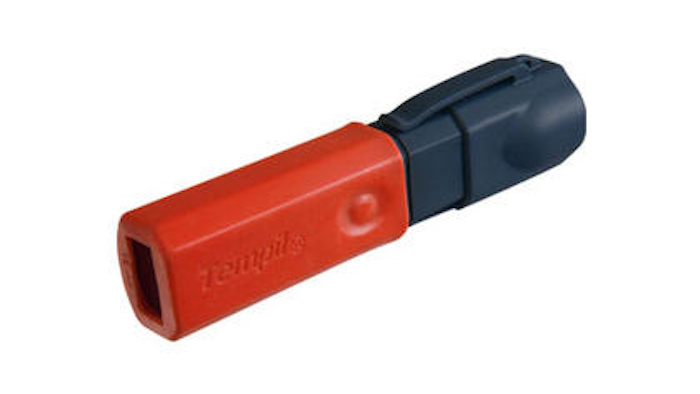 ELK GROVE VILLAGE, IL — Temperature measurement for welding, fabrication, assembly, and related jobsites has reached new standards for accuracy and efficiency with the introduction of a newly enhanced Tempil Estik electronic surface thermometer. 
Engineered for a wide range of critical temperature monitoring applications, Tempil's upgraded Estik eliminates the need for supervisors to carry multiple temperature indicators, while increasing the ease and accuracy of jobsite inspections. 
Estik delivers temperature readings with the industry's highest level of accuracy by directly touching the surface of the materials being inspected.  It incorporates the latest in micro-thermocouple technology with a bold digital readout that instantly displays surface temperatures with an accuracy of +/- 2 percent. Measuring surface temperature from 32°F to 999°F, Tempil Estik automatically reads all standard pre-heating, interpass and cool-down temperatures, and can be used on polished or non-polished surfaces.
The Tempil Estik is designed for use with solid stationary surfaces, including pipeline construction (pressure and non-pressure), oil rig fabrication, welding and metal fabrication, motor and bearings housings, and overall industrial maintenance.
Estik features an ergonomic hand grip, three-digit backlit display, and selectable readouts in Fahrenheit or Celsius. Powered by three AAA batteries, Estik requires no external wires or cables and includes an automatic shut-off function.