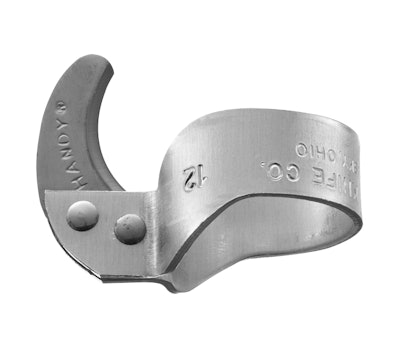 The Handy Safety Knife™ is a patented, high-quality, low-cost knife that is worn on the hand like a ring, so it's always handy. It is a professional grade utility knife that is strong enough to be a part of most any manufacturing process and can be worn over work gloves if needed.

The safety knife is as versatile as it is convenient being used in the agriculture industry in such applications as grape harvesting and in a manufacturing setting for fiberglass extrusion. It also offers a clean, efficient way to process food items for the food industries and it is USDA approved. In almost any instance where a person would use a standard utility knife, HTK's safety knife can complete the job in a much safer and efficient manner without leaving employees vulnerable to potential hazards and injuries.

HTK safety knives are offered in a range of ring and blade styles to fit the needs of the user or application. Having been a safe cutting solution for more than 100 years, today HTK safety knives are at work in a wide range of businesses and industries, such as foodservice, hospitality/linen services, horticulture, agriculture, warehousing and textile manufacturing processes.