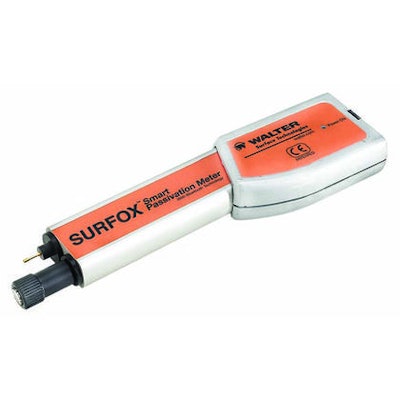 WINDSOR, CT — Walter Surface Technologies is encouraging machine shops and fabricators to utilize their SURFOX Smart Passivation Tester, a new "passivation" tool and a component of its SURFOX electrochemical cleaning system, to analyze passivation levels in stainless steel. The tool includes a cloud-based app that can be managed via smartphone, which measures chemical levels to determine the degree of passivation in which the stainless steel item (e.g., in mixing tanks or drums) is currently contained.
The SURFOX passivation app allows machinists to capture data, which is stored via the cloud, and utilize telemetry to analyze the changing chemical levels during this passivation process.  Technicians can then map the oxidation process and track the progression of the passivation state in the stainless steel item and identify if the piece has been fully passivated to avoid rust and corrosion.
The SURFOX Smart Passivation Tester is part of a larger family of SURFOX electrochemical cleaning products which deliver a safer (NSF-certified), cleaner, and more efficient method by which to clean stainless steel welds without altering the finish of metal surfaces. Stainless steel is pervasively used in facilities found in a wide range of industries, including the food and beverage, pharmaceutical, architecture and transportation industries.