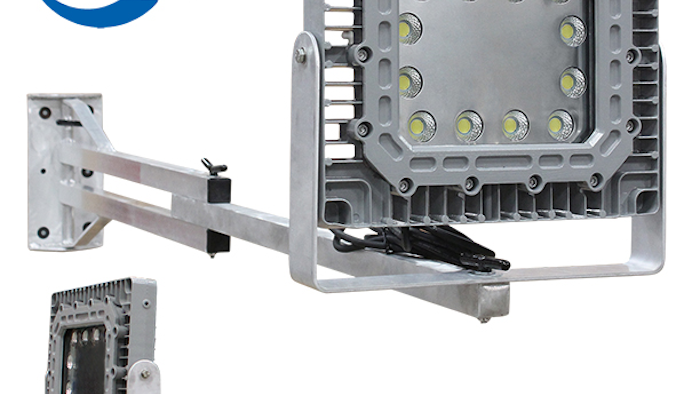 Kemp, Texas 75143
Longtime leading supplier of explosion proof lighting equipment Larson Electronics has announced the release of a 150 watt explosion proof LED switch blade dock light equipped with a ten foot pivoting aluminum arm.
The EPL-SBDL-150RT-120 explosion proof switch blade dock light from Larson Electronics provides operators with a powerful and energy efficient alternative to traditional hazardous location luminaires. This Class 1 Division 1 & 2, Class 2 Division 1 & 2 LED dock light provides 13,000 lumens of high quality light while drawing only 150 watts of power. The high output LED light head is mounted to an adjustable two part swing arm constructed of lightweight aluminum. This two piece arm design provides two pivot points, one at the mounting bracket and one in the center of the arm. The arm swings 170° from the mounting bracket point and 340° from the center pivot point while the light head is vertically adjustable up to 270°, providing full adjustability for this 150 watt explosion proof LED fixture and allows users to position the light as needed during operation. The switch blade swing arm can be mounted with the light head oriented on the top side or bottom side of the arm, allowing operators to illuminate objects in any location.
The copper free aluminum alloy body of the LED light head is powder coated for added durability and an attractive aesthetic appearance. A special heat dissipating design in conjunction with LED technology helps this fixture achieve an excellent 60,000 hour rated lifespan. The cast aluminum body and LED lamp give this light excellent durability and resistance to vibration and impacts. This dock light is universal voltage capable and can be operated with 100-277 volts AC. It is IP67 rated, dust proof, and protected against high pressure jets and temporary submersion. This unit is ideally used for mounting near loading door areas and docks for use as a loading bay or dock light.
"This new dock light has a double pivot point swing arm design that allows for easy placement of the light in different areas when needed," said Rob Bresnahan with Larsonelectronics.com. "These units are built with versatility and reliability in mind."
Larson Electronics carries an extensive line of LED light towers, portable power distribution systems, explosion proof lights, portable work lights and industrial grade LED area lights. You can view Larson Electronics' entire line of lighting by visiting them on the web at Larsonelectronics.com. You can also call 1-800-369-6671 to learn more or call 1-214-616-6180 for international inquiries.