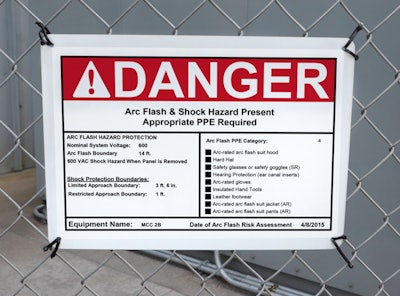 BEAVERTON, OR — There's always the quiet before the storm. The quiet is the slow and steady buzz of electricity fueling the machinery that runs our industrial economy. The storm is arc flash — an electrical explosion that vaporizes metal and burns anything in its path.
Every three years, the National Fire Protection Association releases a new edition of NFPA 70E, the standard which helps reduce workers' exposure to major electrical hazards. Graphic Products has summarized the 2015 standard to create an Arc Flash Labeling Best Practice Guide.
Major changes to the 2015 standard include simplified label requirements, and a more effective personal protective equipment (PPE) category system. The Arc Flash Labeling Best Practice Guide includes chapters like: evaluating an electrical safety program, creating an arc flash label, and arc flash PPE.
The guide can be used as a safety training resource to help companies prevent workplace injuries and fatalities, and comply with applicable OSHA standards. Graphic Products has also partnered with Easy Power to release Calculating Arc Flash Energies Guide and the 10 Step Program to Developing an Arc Flash Hazard Program.
Graphic Products is an innovative leader, providing workplace safety and compliance solutions. Graphic Products is home to DuraLabel industrial label and sign printers, the Echo large-format printer, PathFinder wayfinding products, spill containment supplies, personal protective equipment, lockout/tagout solutions, and industry publications and guides. Visit GraphicProducts.com or call 888.637.3893 for more information.