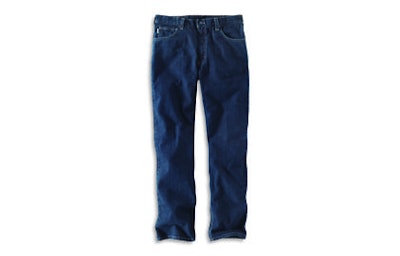 ​TRION, GA — Mount Vernon FR and Carhartt have teamed up to launch the newest advancement in flame resistant (FR) clothing, the Carhartt Flame Resistant Rugged Flex Jean. As the name suggests, the Carhartt FR Rugged Flex Jean combines FlexTex FR denim from Mount Vernon FR with Carhartt's signature Rugged Flex stretch technology to provide comfort and protection in any work environment, while offering unique flexibility for maximum range of motion. The Carhartt FR Rugged Flex Jean will be available in July.
Known for manufacturing high-quality protective fabric, Mount Vernon FR is also leading the way in developing FR fabrics with added comfort in mind, such as Crossbill Flex FR, available exclusively with Carhartt. The Carhartt FR Rugged Flex Jean utilizes fabric with an elastometric fiber that has bilateral flex, allowing it to elongate sideways and diagonally, eliminating any sagging or bagging, and making reaching and bending easier for workers.
Carhartt FR Rugged Flex® Jeans feature an arc-resistant button closure, a brass zipper fly with Nomex FR zipper tape, and classic Carhartt hallmarks like triple-stitched main seams for added strength and durability. The jeans are available in Deep Indigo Wash, a premium shade that transitions seamlessly on and off the job in order to meet every work and lifestyle need. Finally, the finished jeans are mechanically washed to create a soft finish, ensuring that the wearer experiences the most comfortable fit.