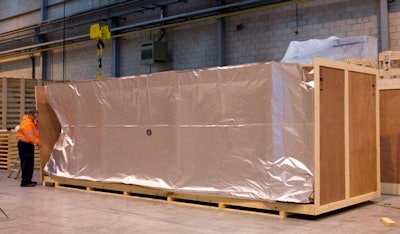 ORLANDO, FL — 3D Barrier Bags Inc., manufacturer of Mil-Spec Barrier Bags, has opened a new facility in Orlando, FL. With more than 26 years experience, 3D Barrier Bags Inc. offer custom-made 3 dimensional barrier bags, with no limitation on size or quantity, dispatched within 24 hours and express delivered.
Barrier Bags provide protection from corrosion and moisture damage during storage and shipment. Many packers and craters currently use foil blankets as a method to pack their goods, a process which can be time consuming and not always cost effective. 3D Barrier Bags Inc. design and calculate the exact barrier material for the 3-dimensional bags so there is no excess waste. There is also a labor saving over blankets as the final sealing time is reduced by 50 percent as a one-man operation.
In addition to the custom-made 3D Barrier Bags, desiccant can be supplied either loose or welded into the barrier bag. Screw-in indicators can also be fitted into the bag to monitor the contents along with clear barrier window, an additional benefit for customs inspection.