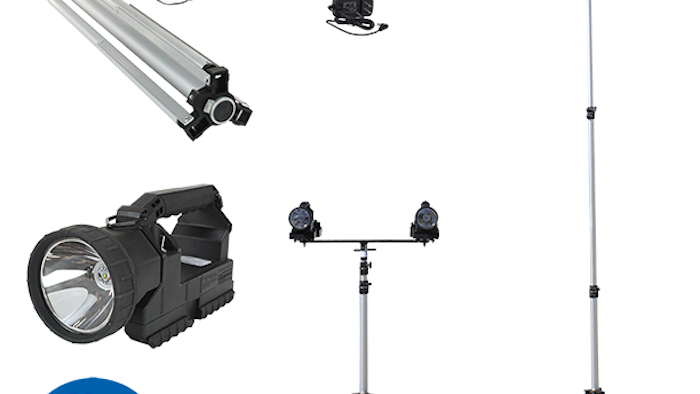 Larson Electronics expands their inventory of portable work lighting with the release of an explosion proof rechargeable light tower that provides a sixteen hour run-time on a single charge.
The EPL-TP-2XRUL10 portable explosion proof light tower from Larson Electronics produces a 140,000 candela peak beam intensity reaching over 1,400' in length. This unit is lightweight, weighing at only six pounds and is powered by lithium ion batteries that require no special charging procedures. This light tower is waterproof to provide all weather durability and has an articulated head which allows the user to position the lamp head through 90° of movement for the most convenient handling. The durable housing is constructed of impact resistant nylon and has a rubberized coating and ribbed handle for added durability and improved grip. The two light heads on this tripod are removable and can be used separately as a handheld lighting solution adding to the versatility of this unit. The high output LED lamp heads are combined with a high quality reflector to produce two 225 lumen high beams and two 100 lumen low beams. These units also feature a pair of flashing red and white LEDs located on the tail of the unit that can be used as warning or indicator lamps. A toggle switch located on the top of the light allows the operator to select the preferred operating mode. Using the latest lithium ion battery technology, this unit has no memory issues and can be recharged regardless of current charge levels, so there is no need to fully discharge the light before recharging. The batteries will hold its charge for eighteen months even when on the shelf. The charging docks for these lights are mounted to a removable post for charging convenience and storage. The lights have an LED battery indicator light and it will illuminate when there is only thirty minutes of light remaining. The Lithium-Ion 7.8 volt batteries in these units are charged with an included 120 volt AC wall charger and cord that is suitable for domestic use.
"This new work light is versatile and compact," said Rob Bresnahan with Larsonelectronics.com. "It can be used a stand-alone light via the included tripod or it can be used as a handheld light."
Larson Electronics carries an extensive line of LED light towers, portable power distribution systems, explosion proof lights, portable work lights and industrial grade LED area lights. You can view Larson Electronics' entire line of lighting by visiting them on the web at Larsonelectronics.com. You can also call 1-800-369-6671 to learn more or call 1-214-616-6180 for international inquiries.