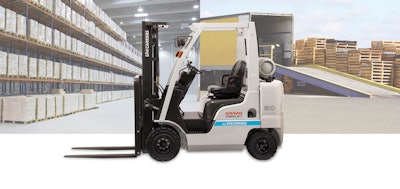 MARENGO, IL— UniCarriers Americas Corporation (UCA), a manufacturer of materials handling equipment, offers the Platinum II Nomad series lift truck.
The Nomad series features the flexibility to use the compact lift truck both indoors and outdoors.
Built on a smaller frame, typical for warehouse or other indoor applications, UniCarriers' exclusive Nissan Forklift brand Nomad series lift truck rides on solid pneumatic tires, which allow an indoor truck to traverse outside on paved surfaces. They are available in 3,000-, 3,500- and 5,000-pound capacity models.
The Nomad series is powered by the company's well-known K21 industrial engine. This low-emission, 2.1-liter engine runs on LPG (an optional gas/LP dual-fuel system is available for even greater versatility). The vehicles feature precision maneuverability in confined spaces, intuitive operation systems and rugged construction. Nomad lift trucks maintain high capacity, making them the ideal solution for handling material between inside operation and outside storage facilities.
This exclusive model line-up is ideal for increasing efficiency in rental equipment operations, unique or limited-space applications, retail centers with seasonal sales, nurseries or garden centers, home improvement stores, and any other operation needing extreme flexibility in material handling operations.
Nomad series forklifts are equipped with a standard seat-actuated operator presence system that automatically locks lifting and tilting when the operator exits the truck. The models also offer a range of standard features for operator comfort and efficiency. A variety of optional equipment is available to customize the Nomad series forklifts for specific applications and preferences.