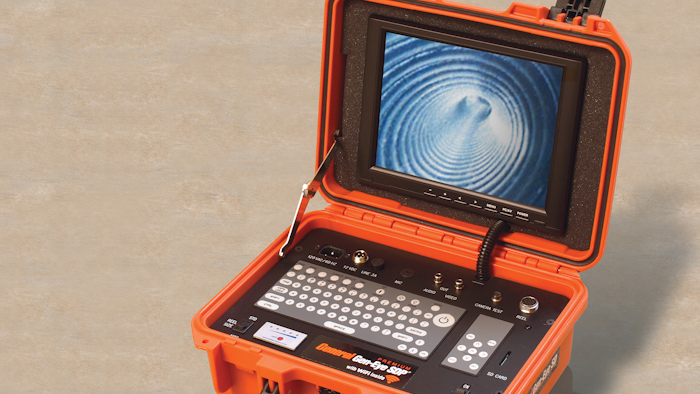 ​MCKEES ROCKS, PA — General Pipe Cleaners adds new Gen-Eye SDP premium video inspection and location system, a premium version of the popular Gen-Eye SD inspection system. The new system features a sunlight-readable screen, rechargeable battery and Wi-Fi transmitter, along with all of the features of a full-size camera system in a compact, portable package.
Building on the popular Gen-Eye SD base, the Gen-Eye SDP incorporates several enhancements to make inspection easier, including:
A larger 10.4-inch, LCD sunlight-readable screen, making pipe inspection easier in bright sunlight.
A built-in, four-hour rechargeable battery, ideal for remote applications that are far from a power source.
A Wi-Fi transmitter inside for sending video to a smartphone or tablet.
A built-in, waterproof keyboard that permits up to nine pages of on-screen titling in wet environments.
An integral SD recorder that captures video or still images and can store as much as 32 GB of data on one card.
A heavy-duty Pelican case that protects the system and makes it easy to transport.
The new system features a docking arm to mount it on a full-size reel to troubleshoot 3- to 10-inch lines or on a mini-reel for 2- to 4-inch lines.
Gen-Eye SDP systems also include a built-in, voice-over microphone with switch, LED dimmer control, camera test port, video- and audio-out connections for external recording, plus AC and DC power cords.