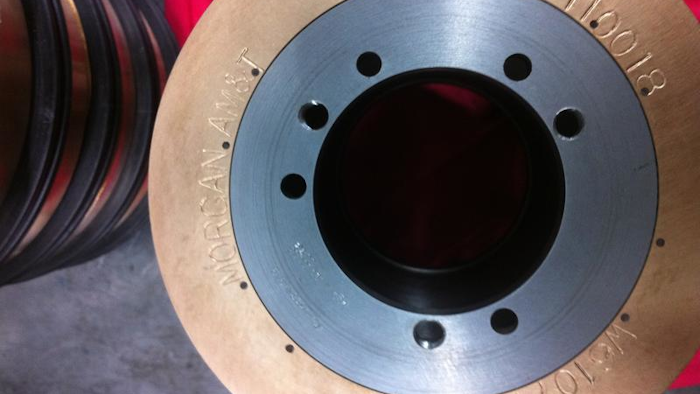 PRESS RELEASE
Job No.
January 7, 2013
Morgan Advanced Materials offers quality slip rings that ensure superior wind turbine life and performance

Morgan Advanced Materials Electrical Carbon business announces that its quality engineered slip rings, can reduce down time and improve the life of equipment whilst reducing maintenance time and costs. Made with the latest innovations in resin compounds Morgan's molded slip rings encapsulate all current carrying components, inhibit harmful dust intrusion and contamination, and increase the dielectric strength. They can also be specially engineered to improve airflow, which reduces the amount of thermal build up.

These key benefits make them ideal for use in wind turbines as well as numerous other industrial, traction power and signal transmission applications. Slip rings are offered in a wide range of both standard and customized sizes and designs and can be manufactured in either molded or fabricated versions.
High quality slip ring transmitter systems are available in 1 to 8 rings from Morgan, with outside diameters ranging from 24 to 500 mm and feature high mechanical, thermal resistance and excellent dielectric properties.

Ends




For further information, please contact:
Kristin Nugent, McNeil, Gray & Rice Inc. 617 367 0100 ext. 148
kristin.nugent@mgr1.com

Scott Bentley, Morgan Advanced Materials
scott.bentley@morganplc.com
Tel +44 (0)1299 827000

About our Electrical Carbon business
The Electrical Carbon business of Morgan Advanced Materials produces carbon and metalized-carbon current collector strips and assemblies for linear electrical transfer.
Our electrical carbon products are produced from an extensive portfolio of materials including carbon, graphite, silicon carbide and other ceramics. The range includes pantograph strips, third rail shoes, trolley bus inserts and industrial linear collectors for applications from 60V to 25kV.
The Electrical Carbon business is able to draw on longstanding applications engineering experience and materials expertise to engineer products that meet demanding customer challenges and deliver long term high-performance.
________________________________________
About Morgan Advanced Materials
Morgan Advanced Materials is a global materials engineering company which designs and manufactures a wide range of high specification products with extraordinary properties, across multiple sectors and geographies.
From an extensive range of advanced materials we produce components, assemblies and systems that deliver significantly enhanced performance for our customers' products and processes. Our engineered solutions are produced to very high tolerances and many are designed for use in extreme environments.
The Company thrives on breakthrough innovation. Our materials scientists and applications engineers work in close collaboration with customers to create outstanding, highly differentiated products that perform more efficiently, more reliably and for longer.
Electrical Carbon is a business of Morgan Advanced Materials, which has more than 10,000 employees across 50 countries serving specialist markets in the energy, transport, healthcare, electronics, security and defence, petrochemical and industrial sectors. Morgan Advanced Materials (MGAM) is listed on the London Stock Exchange in the engineering sector.
For more information on Morgan Advanced Materials visit www.morganadvancedmaterials.com.