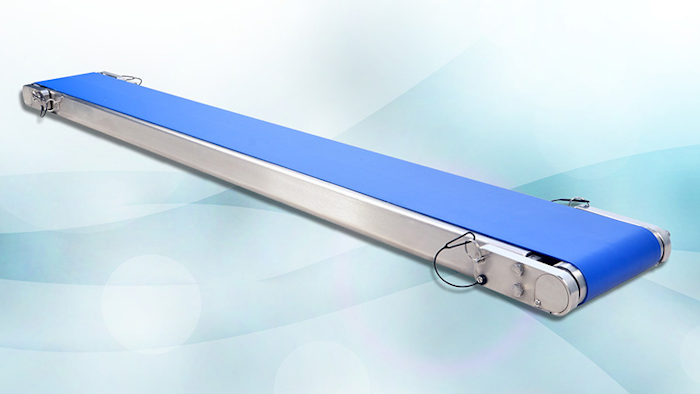 QC Industries recently launched their new HydroClean Sanitary conveyors. These are the first modular belt conveyors that can be disassembled completely without tools to make cleaning quick and easy.

Thanks to a unique series of pull-pins, sides and guides can slide off in one piece and stand brackets can flip down out of the way. The tail can then be flipped up to relieve tension on the belt, and the belt, drive, and tail can be removed for in-depth cleaning — all without a single tool.

"We spent three years developing our HydroClean conveyors because we wanted to make sure they were exactly what our customers wanted: something that's easy to use and stands the test of time," said David Dornbach, president of QC Industries.

HydroClean conveyors are built on a single-piece 304 stainless steel frame to NSF standards. To minimize opportunities for bacteria growth, they feature a self-draining frame, minimal horizontal surfaces, no exposed threads, and hex head fasteners. Their sealed ball bearings are filled with NSF approved solid lubricant and covered for protection during in place cleaning operations.

"This product has been through the most extensive beta test of any conveyor we've ever created, with test sites in a wide variety of industries including several large food processing facilities," said Brad Marx, QC Industries' Research and Development Supervisor. "Our customers asked to be able to disassemble it tool-lessly for cleaning, so we created a conveyor that comes apart completely just by pulling pins."

A video at at http://qcconveyors.com/hydroclean/video shows how easily the conveyor can be disassembled.

HydroClean conveyors handle speeds up to 300 feet per minute with loads up to 120 lbs. Widths are available in increments from 4" to 24" and lengths from 36" to 18'. Their 2.34" profile will fit in even the most space-limited applications. They are available with a variety of v-guided belting, including sealed edge and totally encapsulated belts.

As with all QC Industries conveyors, HydroClean conveyors feature a Ten Year Warranty.

QC Industries' low profile belt conveyors are used in a wide variety of applications including packaging, food processing, pharmaceutical, automation, medical product and device manufacturing, and more.