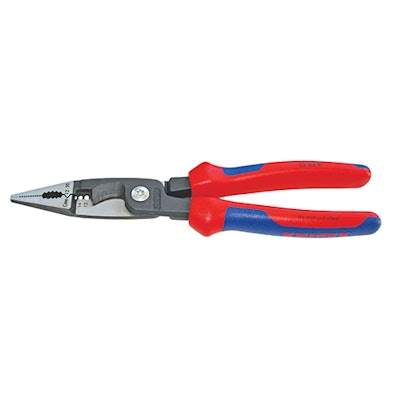 Arlington Heights, IL – The electrical installation pliers from KNIPEX Tools LP performs six tasks in one 8-inch hand tool: cutting, stripping, crimping, gripping, bending and deburring. The installation pliers are fully loaded with the basic functions of five other tools that are essential for electrical installation including side-cutting pliers, long-nose pliers, wire strippers, crimping pliers and cable shears. This pliers, along with a diagonal cutter, are the only tools needed for electrical installation.The electrical installation pliers feature:
Induction-hardened cutting edges for cutting copper and aluminum wire up to 9/16-inch stranded or 5/32-inch solid.
Stripping holes for 12 and 14 American wire gauges.
Crimp die for 12 to 20 American wire gauges.
Serrated gripping surfaces and pipe grip for flat and round material.
Smooth surface near the tips for a non-damaging grip when bending wire loops.
Clear-cut outside edges for reaming conduit or pipe and for deburring feed-through holes.
For more information, please visit www.knipex-tools.com.