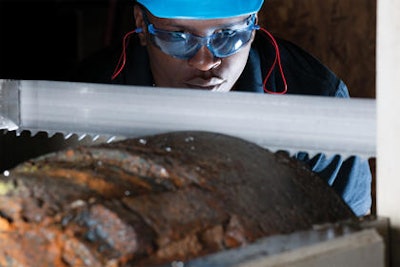 East Longmeadow, MA - LENOX® introduces the LENOX Contestor XL™ Bi-Metal Band Saw Blade, specifically engineered for high performance sawing of large, difficult-to-cut metals. LENOX Contestor XL features a new High Speed Steel (HSS) edge wire that increases tooth hardness for better abrasive wear resistance. The blade's patentpending chip controlling design reduces heat and wear while its shallow gullet shape maximizes beam strength – allowing the blade to deliver straighter cuts for a longer period of time. LENOX Contestor XL product features:
- Increased wear resistance that delivers longer blade life thanks to the new HSS edge wire and chip controlling design
- Improved chip formation helps to penetrate difficult to cut metals with higher rake angles and multi-level set
- Optimized design for straighter cuts on large blocks due to increased beam strength Applications include: mold steels, stainless steels, tool steels, titanium alloys, and
nickel-based alloys.
For more information, please visit www.lenoxtools.com.