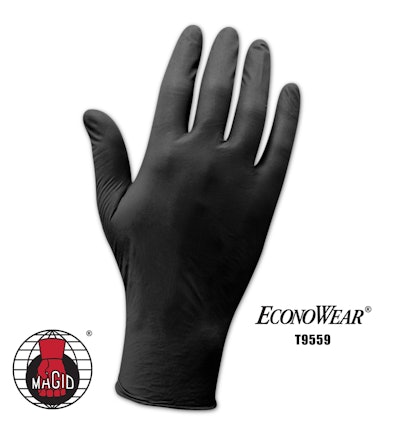 Sleek black color hides dirt, grime and grease thereby extending wear and cost savings
Chicago, IL – Magid Glove & Safety extends its line of Magid® EconoWear® Disposable Nitrile gloves today with the arrival of the new Magid EconoWear T9559 Black Powder-Free Disposable Nitrile Gloves. Offering enhanced durability, a thin 5 mil construction and a competitive price, the EconoWear T9559 Disposable Nitrile Gloves have the added benefit of a black coloration over traditional blue nitrile gloves. This darker color helps to hide dirt, grime and grease to increase overall product lifetime and value. Moreover, the slightly- thinner material helps to reduce hand fatigue while improving fit and feel and delivering greater tactile sensitivity. Similar to the Magid EconoWear T9558 Blue Powder-Free Disposable Nitrile Gloves, the new T9559 EconoWear Gloves are 9½" long, 5 mil thick and offer a superior fit and better puncture, abrasion, and chemical resistance than disposable vinyl or latex gloves. These ambidextrous gloves have textured fingers for enhanced grip, a rolled cuff for easy on/off and are powder-free for use in areas where contamination is a concern. The EconoWear T9559 Gloves are ideal for automotive, janitorial, general maintenance, manufacturing and food processing applications. Available in sizes small through 2XL, the EconoWear T9559 Gloves are packed 100 gloves per dispenser with 20 dispensers per shipping carton and available for immediate shipment with discounts available for volume purchases.
For more information, please visit www.magidglove.com.