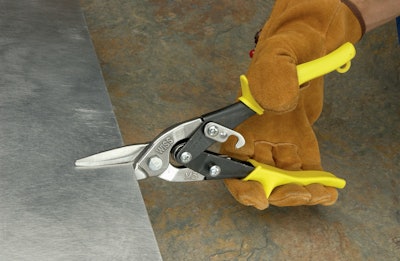 Introduced 75 years ago, Market-Leading Product Continues to Deliver Best Overall Life
Sparks, MD – Wiss, an Apex Tool Group brand known for durability and performance, offers aviation snips that deliver a better overall product life as a result of their unique blade design, free-floating active pivot bolt and valve-grade double-wound return spring. Made in the USA, Wiss Aviation Snips were first introduced in the late 1930s. The tool features a unique full edge width wave-pattern serration on both the upper and lower blades, providing more aggressive shearing action, higher resistance to tooth breakage and longer blade life. Wiss blades are the only ones on the market made using the investment casting process, a manufacturing method that produces highly consistent parts. Computer numerically controlled (CNC) machining is then used to create the extremely uniform, wave-shaped serrations. Wiss Aviation Snips feature a smooth free-floating pivot bolt design that evenly distributes force and resulting wear over the entire bolt, which also increases service life. The pivot bolt on other snips is threaded and locked into one of the blades, causing excessive wear and strain on the bolt, which leads to premature product failure. A double-wound valve-grade steel return spring provides trouble-free cutting and superior durability. Snip design and materials are lab-tested and exceed ASME requirements by more than 10X. "Wiss Aviation Snips offer unmatched precision and durability for sheet metal fabricators and HVAC professionals," said Griffin Biering, product manager for Wiss. "Millions of pairs have been 'field tested' by pros over the years, and they tell us Wiss snips also significantly reduce strain and fatigue. We're proud to remain the market leader." Wiss offers a wide line of snips and other cutting tools to industrial and metalworking professionals and DIYers. Products are available through industrial distribution, hardware stores, home centers, and other retail outlets.
For more information, visit http://www.apexhandtools.com/brands/wiss.