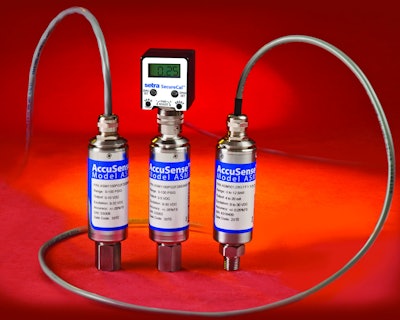 Setra Systems Introduces AccuSense™ Model ASM Ultra High-Performance Industrial Pressure Transducers
Boxborough, MA – Setra Systems, Inc., a global designer and manufacturer of pressure measurement instrumentation for industrial, test & measurement, HVAC/R, semiconductor, energy, environmental, medical, pharmaceutical, and meteorological requirements, has announced the introduction of the new AccuSense Model ASM, an ultra high-performance pressure transducer, designed to provide exceptional accuracy, stability and overpressure protection within demanding test environments. The AccuSense Model ASM ensures excellent linearity and stability, with full-scale end point accuracy of ±0.05%, or ±0.1% of reading. Units are available in ranges from -14.7 PSI to 1000 PSI, with choices of gauge or absolute pressures and 0 to 5 VDC, 0 to 10 VDC, or 4-20 mA outputs, as well as various pressure and electrical connector types, to suit exact user requirements. Overpressure protection of up to 2X proof pressure is standard, with the optional inclusion of a patented (US patent # 6,532,834) high overpressure protection up to 10X proof pressure. This expanded protection capability makes the Model ASM the highest performing pressure transducer of its kind on the market today. The unique design of the Model ASM combines Setra Systems own patented, field-proven, capacitance sensing technology with the very latest in electronic circuitry design, including integral digital signal conditioning. The pressure transducers are also temperature compensated, with a total error band (TEB) of less than ±0.25% full scale, minimizing thermal errors, and making outputs virtually unaffected by wide environmental temperature shifts. A hydrophobic porous plug at the top of the unit also protects its recessed air vent from environmental contaminants. The transducers also offer high immunity to RFI from wireless devices, for optimal signal output clarity and accuracy.
For more information, visit www.setra.com.