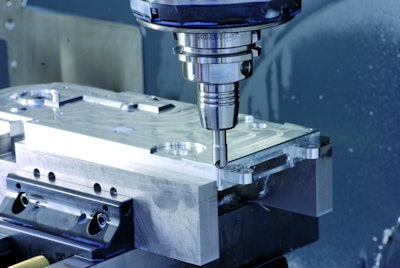 Concentric clamping for ultimate tool performance
Morrisville, NC - SCHUNK introduces the new TENDO Platinum toolholder. TENDO Platinum boasts improved brazing technology by using a unique brazing and hardening process all in the same cycle, allowing for the most rigid and durable tool clamping available. TENDO Platinum is manufactured from highest grade tool steel and thru hardened to ensure long life. Manufactured to the highest quality standards and exceeding industry tolerance norms and material specifications, the TENDO Platinum is ranked among the highest of its kind. The TENDO Platinum is balanced to G2.5 at 25,000 RPM. With excellent vibration dampening and precise run out accuracy of less than 0.003 mm (0.0001") at 2.5 x clamping diameter, the TENDO Platinum protects the machine spindle and the cutting tool from wear and damage. SCHUNK offers three lengths with two precision ground taper sized: CAT40 – 2.5", 4", 6" / CAT50 – 81mm, 4", 6".
For more information, please visit www.schunk.com.