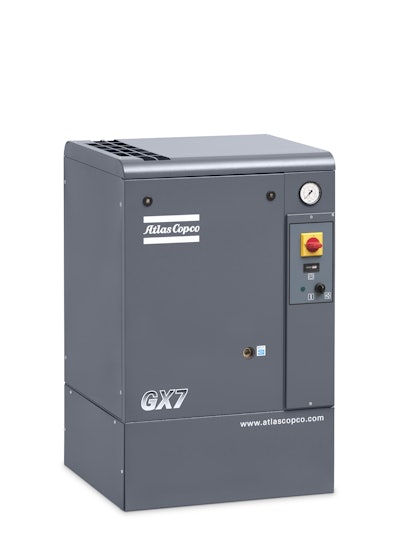 Atlas Copco Compressors' New GX 7 EP Provides Oil-Injected Screw Technology for Small Industrial Applications
Atlas Copco Compressors has expanded its GX 2-11 range with the new 10 horsepower GX 7 EP. Generating 29.2 CFM, the GX 7 EP combines a compact design with Atlas Copco's proven oil-injected screw element and load/unload regulation, providing small industries and workshops with economical and reliable performance. With a compact footprint and low noise emission, the GX 7 EP is designed for installation directly into the workplace. Additionally, the entire line of GX compressors discharges cooling air from the top, which permits placement in a corner oragainst a wall. Available in floor- or tank-mounted variants, the GX 7 EP features an optional integrated dryer that saves additional space and installation costs. With the addition of the GX 7 EP to the newly expanded GX 2-11 range, the GX family now provides customers with two GX 7 options catering to different applications. The GX 7 EL is optimized for applications demanding larger air flow and longer duty cycles by deliveringhigher air flows, different pressure variants and the Elektronikon® controlsystem.
For more information, please vist www.atlascopco.us.