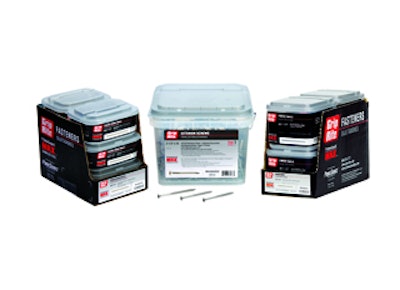 Irving, TX -- Grip-Rite® introduces PrimeGuard MAX™, a stainless steel fastener line with a lifetime guarantee against rust. The product line includes stainless steel nails, screws and collated nails, available in a vast array of styles and sizes. PrimeGuard MAX stainless steel fasteners are designed specifically for use on decks, fences, roofing, siding and trim, and other outdoor projects. All PrimeGuard MAX premium fasteners have gone through rigorous testing and monitoring, and offer a lifetime guarantee against rust for the life of the project.
In addition to its high-end performance, PrimeGuard MAX is now available in new, innovative, see-through plastic packaging to make fastener selection even easier. Other benefits include:
Product descriptions with full color product photos are featured on easy to read bi-lingual labels.
All tubs and buckets feature re-closable, snap-shut lids to protect fasteners from the elements.
Available in convenient 1 lb. and 5 lb. tubs for smaller projects, or economical buckets and bulk boxes for larger projects.
For more information, please visit www.primesourcebp.com.