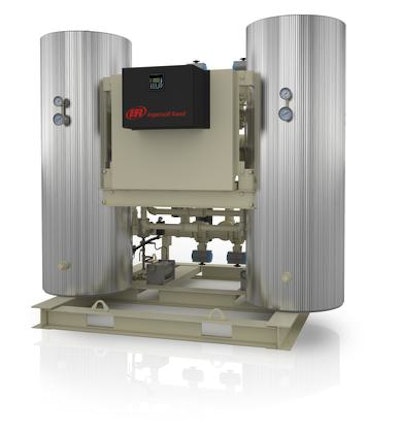 Ingersoll Rand HOC Dryers Now Available with an Air-Cooled Configuration
Davidson, NC — Ingersoll Rand has added an air-cooled model to the heat-of-compression dryer product line to allow for greater flexibility, energy efficiency and reliability in a low profile package. HOC dryers turn wasted heat into useful energy, resulting in clean, dry air at a fraction of the cost of traditional desiccant dryers. By using heat produced during the compression process, HOC dryers can deliver instrument-quality air using virtually no energy. The air-cooled model is an extension to the water-cooled HOC dryer released last year. These new models deliver Class 2 (-40 °F) air for customers that do not have a water source available yet desire the energy efficiency benefits afforded by the new HOC dryers. The unit is also flexible and can be connected to as many as three oil-free compressors, reducing footprint requirements and installation costs.
For more information, please visit www.ingersollrand.com.