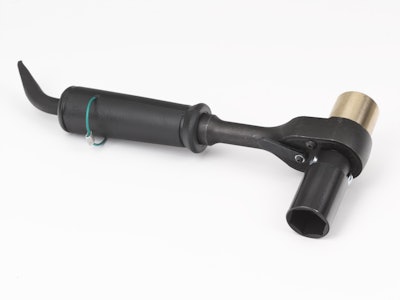 Kenosha, WI – When the job calls for erecting scaffolding to work at an elevated level, the new Williams® Scaffolding Ratchet from Snap-on Industrial Brands can be a true time saver. The Scaffolding Ratchet is three tools in one – tools that erectors need to easily and quickly engage the posts, fasteners and clamps on scaffolding. Since most scaffolding uses 7/8" hex nuts, the ratchet comes with a 1/2" drive pinned 7/8" six-point socket. Opposite of the socket is a bronze hammer head, which comes in handy to pound out quick-release levers. Lastly, a pry bar is located at the other end of the ratchet to aid in scaffolding disassembly.
Other features and benefits of the scaffolding ratchet include:
36-tooth gear with 10-degree of engagement for working in tight areas
Supertorque lobular opening for greater turning power without deforming the fastener
Easy access reversing level to change working direction with only one hand
Bronze hammer head to reduce rebound
Tethering device to prevent dropped tools
For more information, visit www.snaponindustrialbrands.com.