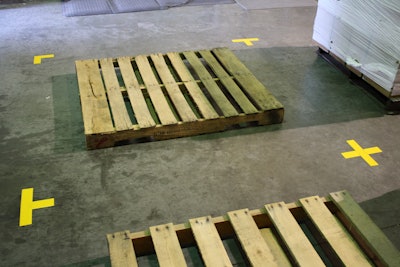 Stop-painting.com Introduces New Industrial Floor Marking Tapes, The Superior Mark X's and T's
Wake Forest, NC - Stop-painting.com adds two more floor marking solutions to their Superior Mark brand industrial floor marking line, the Superior Mark X Markers and T Markers. These new warehouse floor tapes feature Superior Mark's patent pending design with beveled edges and recessed adhesive to maximize durability. These new floor markers create a more durable and cost effective way to visually organize the industrial floors of factories and warehouses. Although similarly shaped vinyl floor tapes have been on the market for years, Stop-painting.com's New X and T shaped floor markers incorporate design features that maximizes durability. Durability is of paramount importance considering the amount of heavy traffic that takes place in the facilities in where these markers are utilized. After experimenting with various angles of Superior Mark's edge, an edge was developed that is scientifically proven to withstand more force than any other angle. In addition, the pressure sensitive adhesive is recessed to just behind the beveled edge. So when a forklift pushing a pallet exerts force against Superior Mark tape, the pallet will ride up and over the beveled edge, rather than dislodging the floor tape. Floor markers are also much easier to maintain than solid lines, because if one marker is damaged, it can be individually replaced.
For more information, visit www.stop-painting.com.