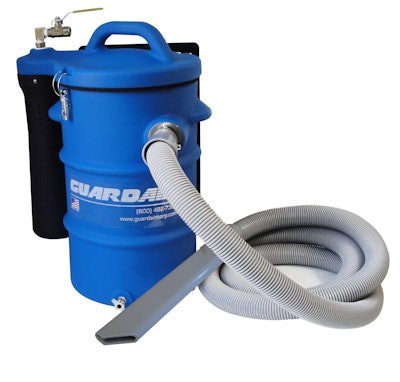 Groundbreaking pneumatic vacuum saves floor space and reduces maintenance costs
Chicopee, MA – Guardair Corporation announces a new high-efficiency, low maintenance pneumatic vacuum that can be mounted on any vertical surface, saving valuable factory floor space and money. "Our unique design allows the Mac Vac to be easily mounted onto other machines, poles, walls, or any vertical surface," said Eric Mills, Vice President Sales and Marketing at Guardair Corporation, a leading manufacturer of pneumatic equipment used for industrial cleaning and maintenance. "And the Mac Vac helps companies maximize not only floor space, but their maintenance dollars as well." Running off standard shop compressed air, the Mac Vac is virtually maintenance-free, with no moving parts to wear out. With no electric motor to generate sparks or burn out, the Mac Vac eliminates dangerous power cords. Mac Vac consumes just 21 cfm of compressed air and delivers 73 cfm of vacuum flow and 77 inches of water vacuum head. Generating high suction for industrial applications, the Mac Vac quickly and effectively vacuums up debris, metal chips, dirt, dust, and even finer materials, including powders and talc. And the Mac Vac is quiet, operating at just 88 dBA. Weighing in at just 13 pounds, the Mac Vac MV2000 features a rugged, 5.5-gallon polyethylene container, a steel bracket for easy mounting, 10 feet of 1-1/2" ID vacuum hose, and a plastic crevice tool. Equipped with a liquid shutoff and drum drain, the versatile Mac Vac is engineered for wet/dry applications. Best of all, the Mac Vac is backed by the Guardair Forever Warranty and is manufactured in the US.
For more information, visit www.guardaircorp.com.