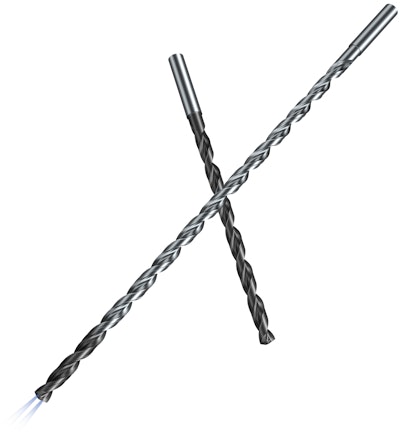 CoroDrill 861 provides higher stability for depths up to 30xD
Fair Lawn, NJ – Sandvik Coromant introduces the CoroDrill 861, a brand new range of solid carbide drills for deep hole drilling applications. Featuring Advanced Chip Management (ACM) flute geometry, the new drills are able to generate small, manageable chips. This, combined with specially designed point geometry to reduce thrust forces and patented double-offset margin geometry, helps provide the high stability necessary for drilling deep holes in the most expedient and efficient manner. Effective chip evacuation is critical when deep hole drilling. The buildup of heat and friction resulting from an accumulation of chips can impact productivity and tool life, even leading to drill breakage and downtime in some instances. With CoroDrill 861, Sandvik Coromant provides consistent edge preparation that protects the cutting edge from premature chipping and flaking, thus helping to minimize cost-per-hole. Using its innovative geometry, CoroDrill 861 produces accurate, deep holes to depths of 12-30 x drill diameter, without pecking. Using a suitable high precision chuck, IT8-IT9 is the achievable hole tolerance in workpieces materials in the steel, stainless steel, cast iron and non-ferrous metal application areas. Internal coolant holes deliver coolant directly to the tip of the drill even at deep drilling depths, further aiding precision and chip evacuation. As well as conventional drilling, CoroDrill 861 is capable of producing cross-holes, and holes in angled faces, making it highly desirable for automotive powertrain shops producing components such as crankshafts, engine blocks and cylinder heads. In a customer performance trial, using a 0.406 inch diameter CoroDrill 861 for horizontal drilling operations in alloy steel produced remarkable results. Drilling to a depth of 5.5 inches (15xD), the tool achieved 60 percent higher productivity than a comparable competitor drill (in 30 minutes' machining time). The machining feed rate increased from 22 to 36 in/min, resulting in an impressive drilled length of 90 feet, compared to the competitor drill, which completed 55 feet.
For more information, visit www.sandvik.coromant.com.