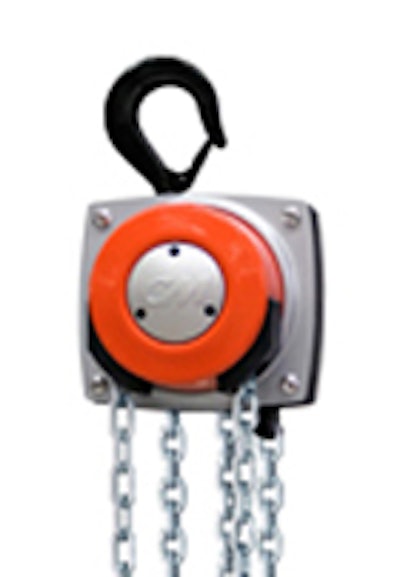 Hurricane 360 Hand Chain Hoist from Columbus McKinnon Offers Unsurpassed Versatility
Amherst, NY - Columbus McKinnon Corporation (NASDAQ: CMCO), a leading designer, manufacturer and marketer of material handling products, announces the Hurricane 360, a hand chain hoist designed to handle the most challenging applications. In contrast to traditional hand chain hoists, the Hurricane 360 may be used in any direction due to its patented hand chain cover that rotates 360 degrees. This unique feature makes the Hurricane 360 ideal for pulling, confined space use, or for lifting loads from above. Additionally, it allows workers to stay clear of the load when making vertical lifts.
The many features and applications of the Hurricane may be viewed at www.cmworks.com/hurricane360.
See the hoist in action in the below video:
If you're having trouble watching this video, try downloading the latest version of Flash Player or contacting your IT department.
Have any comments or questions about our videos? Or do you have a video you'd like to see featured in one of our deployments? Email me at [email protected].