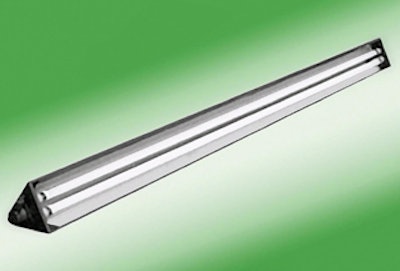 NEW MAGNARAY HIGH-BAY, LOW-BAY, LINEAR FLUORESCENT LUMINAIRES CONSUME FEWER WATTS THAN ANY COMPARABLE UNIT
The W2C96EBHO Series provides high performance, highly durable ambient interior lighting solutions, at any user's lowest total cost. Units replace larger, more energy consuming custom ceiling-mount linear fluorescents, metal halide, high-pressure sodium, halogen and other incandescent luminaires in new or retrofit installations, of virtually any kind in commercial, governmental applications. Typical Magnaray W2C96EBHO Series installations comprise warehouses and distribution centers; large manufacturing plants; military facilities; storage facilities; automotive/truck showrooms and service areas; transportation terminals; "big-box" retail operations. W2C96EBHO Series is characterized by a rigid, strong, linear trapezoidal design. It suspends from any interior ceiling surface by aircraft cable, rigid pendants or small-gauge chain links. Units measure 6.5 inches wide, 100.5 inches long, 5 inches high. Light output is high color-rendition white from low-glare T5, T8 or PL-L linear fluorescents. Configurations of two or four lamps per unit, in wattages ranging from 32, 50, 54 or 96 watts per lamp with 90% maintained lumens and up to 50,000-hour operating life.
For more information, visit www.magnaray.com.