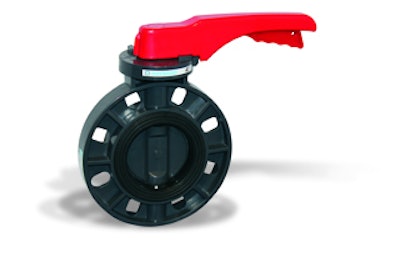 SURE-TUFF BYCS SERIES BUTTERFLY VALVES NOW AVAILABLE FROM HAYWARD FLOW CONTROL
Clemmons, NC - Hayward Flow Control announces the immediate release of our new Sure-Tuff BYCS Series Butterfly Valves. This new line of Butterfly Valves compliments our industry leading line of our thermoplastic quarter turn valves and offers an economical yet corrosion resistant alternative to cast iron butterfly valves. The Sure-Tuff is available in sizes 2" - 8", with hand lever or gear operators. The valves feature a maximum pressure rating of 150 psi / 10 bar for all sizes, and a service temperature of up to 140°F / 60°C.

Other Key Features Include:

· Distinctive Ergonomic Red Handle with Lockout Feature
· Wafer Body Design
· Fits ANSI 125 or PN10 Flange Patterns
· PVC Body with PVC Disc
· 410 Grade One-Piece Stainless Steel Stem
· EPDM Booted Seat
· ISO 5211 Mounting Pad
· 9 Position Throttle Plate

Additional options include Electric or Pneumatic Actuation, and Monitoring Controls such as the LHB Manual Limit Switches for critical service applications. Typical applications or installations include but are not limited to marine and corrosive environments, pools, water/theme parks, aquariums, aquaculture, and irrigation systems.

For more information, visit www.haywardflowcontrol.com.