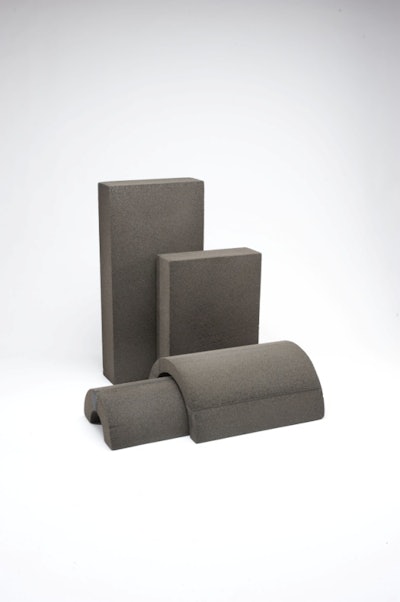 Pittsburgh Corning Announces Major Breakthrough with New 18 x 36 Inch Size of FOAMGLASONE Insulation
Pittsburg, PA — Designed to help customers decrease labor and overall installed costs, Pittsburgh Corning Corporation has expanded the footprint of its FOAMGLAS® ONE™ insulation product by offering an 18 x 36 inch size in thicknesses up to 7 inches. The new, expanded size represents an increase of 50 percent over its current 24-inch insulation, allowing customers to save money on installation without sacrificing thermal or physical properties. Additionally, factoring in the reduction in joint sealant needed with the new size saves handling time and cost. Pittsburgh Corning estimates that customers may save 20 percent or more in total installed costs. "We're always looking to develop solutions that make things easier and more cost-effective for our customers," said Steve Oslica, Director of Marketing at Pittsburgh Corning. "Expanding our current footprint by 12 inches gives customers an opportunity to save a great deal of money in both labor and accessory products. Choosing our new 36-inch insulation may mean savings of hundreds of thousands of dollars in a major installation." Like all FOAMGLAS insulation products, the new 18 x 36-inch product features an all-glass, closed-cell material which eliminates the possibility of moisture without requiring a protective jacket. Impermeable FOAMGLAS insulation offers high compressive strength and dimensional stability. It is also resistant to rotting, insects, vermin and acids, and will not support the growth of mold, fungi or micro-organisms.
For more information, visit www.foamglas.com.