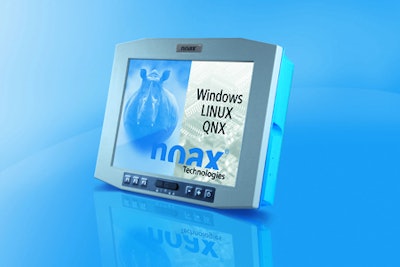 The new noax C12 Industrial PC - A versatile IPC for the manufacturing & logistics industry
The noax C12 Industrial PC has been completely redesigned, combining traditional noax values like ruggedness and reliability with the latest in technological innovation. The C12 offers a variety of options for user-specific configurations, from the processor and the display to the RAM, interfaces and storage media. The computers possess two PCI/PCIe slots – a unique feature in this size class. The new noax design even allows users to enhance the PC with this add-on after several years of use. For improved mobility, the C12 also supports the Wi-Fi standards 802.11a/b/g/n within the 2.4 GHz and 5.8 GHz frequency bands. The new 12" industrial computer gives you the option of using mobile technology for data transfers. Antennas for remote connections are integrated into the front of the housing to avoid breakage. The front now has 3 freely programmable function keys as well as an easy-to-access USB connection with an IP65 protection class rating. Despite increased technical capabilities, the outer dimensions of the new C12 have actually been reduced, thus allowing it to be easily integrated into small spaces and openings. Like all noax industrial PCs, the C12 is fully sealed and completely protected against dust and water in accordance with IP65 protection rating, offering the durability and reliability for which noax computers are so well known. The additional new features expand the options for personal customization as well as for the scope of application. Customers will receive a computer that is optimally tailored to their specific application needs, expands their available options, and increases their flexibility.
For more information, visit www.noax.com.