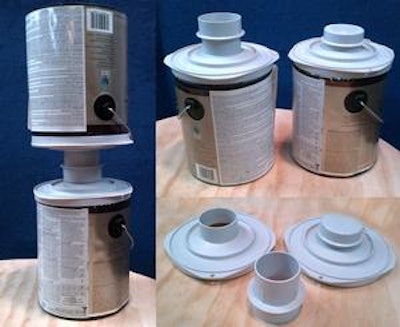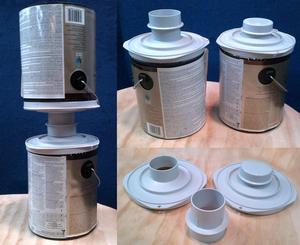 Snap N Save Paint Can Transfer System Saves Paint And Eliminates Mess With A Uniquely Designed Lid and Spout
Sebastopol, CA – Created to improve the way paint is poured and saved, General Development Laboratories of Morro Bay, California has recently released Snap N Save, a universal solution for traditional paint cans. It utilizes durable plastic in a unique design that fits snugly on one-gallon cans. A centered spout makes pouring easy to eliminate wasted paint while an adaptor enables the marrying of two cans so paint is conserved. The lids protect the paint and the can from rust and debris even when stored. Snap N Save paint can-transfer system helps save and store any viscous liquid that comes in one-gallon metal cans. Manufactured with the same durable plastic used for food containers, the lids snap on easily, forming a tight seal for mess-free pouring. Using the adaptor, a centered, circular spout can marry with another can to efficiently pour the remaining paint without any loss. It also allows controlled pouring to a roller tray or brushing container. Snap N Save includes a spout cap that will keep paint from spilling if tipped over. The cap can also be used for touch-up container. A flat lid, with no spout, is also available for long-term storage. This eliminates the rust that can accumulate on traditional metal lids, which makes it more difficult to open and can compromise the paint. With the flat lid cans can stack easily.
Visit www.smallbrandnation.com for more information.