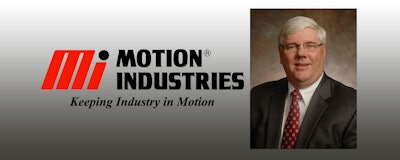 The industrial products market has lost an icon, as Motion Industries on Monday morning announced the sudden passing of its president and CEO, Tim Breen.
According to Breen's obituary in the Birmingham News, the 58-year-old was battling cancer and passed on Aug. 18, surrounded by family.
"Motion Industries has lost a great leader and the world has lost an amazing human being," said Motion Industries leadership. "Those of us who have been fortunate enough to know and work with Tim have lost a dear friend and an inspiration. Tim leaves behind a great company, a great culture and a great team that he affectionately referred to as 'The Motion Family.' His spirit will forever live on at Motion."
Born in Chicago in 1960, Breen was an avid golfer, camper and enjoyed boating and watching sports, especially Notre Dame and the Chicago Cubs, according to his obituary. "Tim loved to travel and was recently able to spend a few weeks in Europe with his family," the obit said.
Breen is survived by his wife of 34 years, Ranea Breen of Birmingham, and his children of Chicago, Ashley DiGiannantonio (Mike) and Tim Breen Jr.
Breen started his career with Berry Bearing Company in 1982 and served there as a sales representative, branch manager, regional manager and corporate accounts manager. His responsibilities continued to grow after Berry Bearing and Motion Industries joined forces in 1993.
Breen took over responsibility of all Motion's U.S. locations in 2011 as executive vice president and chief operating officer. From there, he was promoted to Motion Industries president and COO in 2013 before becoming Motion's president and CEO in November 2014.
Under his leadership, Motion Industries attained its company record $5 billion in sales at the end of 2017, and the company absorbed fellow Genuine Parts Company subsidiary EIS Inc. earlier this year. This past February, Breen was named the 2017 GPC Manager of the Year — the single highest individual recognition in all of Genuine Parts Company.
Along with his tenure at Motion Industries, Breen was a past president of the Bearing Specialist Association and was involved in numerous other committees, including the Power Transmission Distributors Association and was on the board of Junior Achievement of Greater Birmingham.
"We will honor his memory by dedicating ourselves to continuing the work he loved, growing the company he led and appreciating the team he loved so much," added Motion Industries' leadership. "Tim's guidance and vision have left us in a strong position to continue building the company's success."
Motion Industries will be led by Randall P. "Randy" Breaux and Kevin P. Storer, both current Executive Vice Presidents of the business.
"We are deeply saddened by the loss of our good friend and colleague Tim Breen," said Paul Donahue, CEO of Genuine Parts Company. "On behalf of our Board of Directors, management team and employees, we extend our deepest sympathies to Tim's family. Tim was a passionate leader, and he will be truly missed."
Breen was an excellent resource for me editorially here at Industrial Distribution. Last summer I was able to get a sit-down interview with Breen, where we discussed how the company was impacted by Hurricane Harvey and its response to it, along with the impact of Amazon on e-commerce for Motion and the industry as a whole. Along with that interview, my visit to Motion's Birmingham, AL headquarters that August included Breen giving me a tour of the company's corporate facilities and distribution center there. He even agreed to pose for a photo with me. He was always very kind, informative and helpful whenever I spoke with him.
My thoughts are with Tim's family, Motion Industries and Genuine Parts Company during this time.
Updated, 8/21 at 8:32 a.m. CT