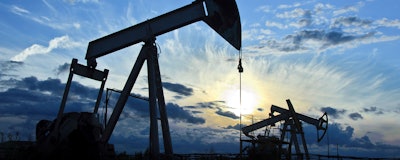 The active U.S. rig count was unchanged last week, while the price of oil nearly $2 throughout the week and opened Monday more than $5 lower than it was three weeks earlier.
Friday's count showed the U.S. rig count remained at 1,057 — up 111 year-over-year (YoY), or 11.7 percent. Data from oilfield services provider Baker Hughes shows the U.S. didn't add or lose any oil or gas rigs, with its 869 oil rigs up by 106 YoY (+13.9 percent) and its 186 gas rigs up by four (+2.2 percent). The U.S. miscellaneous rig count remained at two.
At three five of its recent peak of 162 on June 8, the year-to-date U.S. combined rig count is up by 128 through 33 weeks of 2018, which has included 22 weekly gains, nine decreases and two holds.
Of last week's combined rig count, Texas added three, Louisiana and Pennsylvania each added two and Oklahoma added one. New Mexico lost three, while Alaska, Ohio and Wyoming lost one apiece.
Below is the daily U.S. rig count provided by Drillinginfo on its DailyRigcount.com:
Canada/North America
Canada added three rigs last week, rebounding from a 14-rig loss the week before. Canada's total rig count rose to 212 last week, which was down by two YoY (-1.0 percent). Canada added one oil rig and added two gas rigs, with its oil 141 oil rigs up by 20 YoY and its 71 gas rigs down by 22.
Friday's North American combined rig count of 1,269 rose by three and was up by 109 YoY, or 9.4 percent.
Oil Price Update
It's been a rough August so far for WTI Crude oil. After peaking at $74.15 in early July, oil hasn't closed above $70 since July 30, and had fallen by more than $5 since then as of Monday morning. Oil fell by $2 throughout last week. It opened Monday, Aug. 13 at $67.21 and peaked at $68.29 mid-Tuesday morning, but it was mostly downhill from there. Oil fell below $65 before noon Wednesday and was as low as $64.52 that evening — its lowest mark since April 10 of this year. It gradually improved through Thursday into Friday and was at $66.30 mid-Friday morning, but fell to a workweek close of $65.21. Oil dipped below $65 again on Sunday and opened Monday at $64.93. It was at $65.48 as of 9:50 a.m. CT.