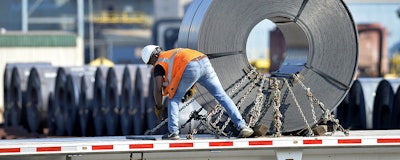 WASHINGTON (AP) — U.S. industrial production rose modestly last month, held down by drops in mining and utilities.
The Federal Reserve says industrial production — which includes output at factories, mines and utilities — increased 0.1 percent in July after climbing 1 percent in June. Factory production rose 0.3 percent, led by expanded output by automakers. But production slid 0.3 percent at mines and 0.5 percent at utilities.
The July reading for industrial production fell short of economists' expectations. But it is still up 4.2 percent from a year earlier. Despite the drop last month, mining has surged 12.9 percent since July 2017.
American industry has looked relatively healthy despite trade conflicts with China, Europe and Canada, and a rising dollar that makes U.S. products more expensive abroad. Helped by tax cuts, the U.S. economy grew at a 4.1 percent pace from April through June, fastest since 2014. Employers are hiring, and unemployment is 3.9 percent, close to a 50-year low.
But manufacturers are coping with labor shortages and supply disruptions connected to the ongoing trade disputes. Among other things, U.S. tariffs on imported steel and aluminum are raising costs for many manufacturers.