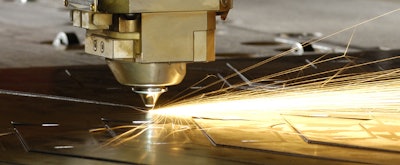 Manufacturing technology orders capped the first half of the year with another strong month in June, gaining 5 percent compared to June 2017 and bringing the annual growth rate to 22 percent for 2018. The latest U.S. Manufacturing Technology Orders Report from the Association For Manufacturing Technology (AMT) showed that orders totaled $417 million for the month, down 14 percent compared to May's totals, and sit at $2.55 billion for the year.
"While many manufacturers are expressing concerns about trade wars, it doesn't seem that it has slowed their need for additional capacity, and orders for new capital equipment remain strong," said AMT President Doug Woods. "Trade issues and supply chain delays are certain to have an impact on the equipment market as we head into the fall. AMT supports a quick and fair conclusion to the issues with our trading partners as exports are important to all manufacturers, and in the case of our members, represent more than a third of their annual output."
The only region to show month over month growth was the Northeast, where power generation and aerospace showed great strength in June. Metal cutting equipment in the South Central region posted a 25 percent decline in June from May levels but is nearly 40 percent ahead of the previous year's order pace through the first six months of 2018. The strength is largely due to higher oil prices and growth in the contract machining industry, but significant orders in automotive have helped push the numbers up as well. Activity in the North Central-West was softer in June but continued to post strong year-to-date growth thanks to the mining and recreational equipment industries gearing up for additional demand. The strongest customer industries in June were aerospace and power generation equipment.
The key leading indicators which AMT tracks for trends in the manufacturing technology market were all positive in June. The Purchasing Managers' Index moved above 60 once again, suggesting strong order growth through the end of the year. Both consumer sentiment and auto sales bounced back in June after small setbacks in May. Capacity utilization for manufacturing continues to edge upward, sitting at 76 percent in June, ever closer to the 80 percent that has historically signaled rapid acceleration for manufacturing technology orders.