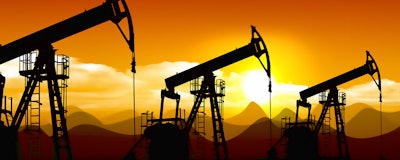 The active U.S. rig count snapped out of nearly two months of sluggish performance with a sizable gain last week, while the price of oil had an overall decline to near $67.
Friday's count showed the U.S. added 13 rigs last week, moving its active mark to 1,057 — three shy of its recent peak on June 8. Before Friday, the count had fallen in five out of the past eight weeks and by 18 overall. Friday's mark was up 108 year-over-year (YoY), or 11.4 percent.
Data from oilfield services provider Baker Hughes shows the U.S. added 10 oil rigs and added three gas rigs, with its oil rig count of 869 now up by 101 YoY (+13.2 percent) and gas rig count of 186 up by five (+2.8 percent). The U.S. miscellaneous rig count remained at two.
Year-to-date, the U.S. combined rig count is up by 128 through 32 weeks of 2018, which has included 22 weekly gains, nine decreases and one hold.
Of last week's combined rig count, Louisiana and New Mexico led the way by adding six and five, respectively. Alaska and Oklahoma each added two, while California and Ohio each added one. Texas lost two, while Arkansas, Kansas and Pennsylvania lost one apiece.
Below is the daily U.S. rig count provided by Drillinginfo on its DailyRigcount.com:
Canada/North America
After adding 144 rigs over an 11-week stretch from May 11 to July 27, Canada's seasonal rig count gain stalled Aug. 3 with no movement, and went the opposite direction last week with a 14-rig loss. Canada's total rig count fell to 209 last week, which is down 11 YoY (-5 percent). Canada lost 12 oil rigs and lost two gas rigs, with its oil rig count of 140 up by 13 YoY and its gas rig count of 69 down by 24.
Friday's North American combined rig count of 1,266 fell by one and was up by 97 YoY, or 8.3 percent.
Oil Price Update
The price of WTI Crude oil had an overall decline for a second straight week and has essentially been stuck in the high $60s since peaking at $74 from June 28-July 10. Oil opened Monday, Aug. 6 at $69.01 and held near there through the early morning hours of Wednesday before plummeting nearly $4 to $66.49 by the late morning. It recovered to $67.25 by late Thursday morning before falling again $66.26 early Friday morning — its lowest mark since June 21 — but rallied to $67.83 by the late morning. Oil closed the workweek at $67.63 and opened Monday, Aug. 13 at $67.64. It was at $67.21 as of 9:08 a.m. CT.