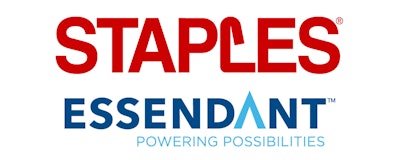 On Wednesday, it was announced that Staples is pursuing buying diversified workplace essentials distributor Essendant, making an offer just five days after Essendant and Genuine Parts Company announced a merger with GPC's office products subsidiary.
On April 12, Deerfield, IL-based Essendant and GPC said they plan to merge Essendant with S.P. Richards in a $680 million deal that would create a combined $7 billion company with more than $200 billion in adjusted EBITDA.
Essendant has now provided a timeline of Staples' offer, and it appears that the distributor is currently weighing its options.
Essendant confirmed that on April 17, Staples made an initial proposal to purchase Essendant with an all-cash offering of $11.50 per share. Essendant declined that offer after reviewal by its board of directors and legal advisors. Twelve days later, Staples made a revised proposal that said it would be able to boost its offer "significantly in excess" of $11.50 per share after receiving confidential information and engaging in discussions with Essendant.
Staples is owned by Sycamore Partners, which owns a 9.9 percent stake in Essendant.
On May 4, Essandant's board determined that Staples' revised proposal is likely to lead to a "superior proposal," but that there is no assurance that the Staples proposal will result in a transaction.
On May 7, GPC made an enhanced proposal to its merger agreement with Essendant, under which Essendant shareholders would be provided a nontransferable right to a contingent cash payment following completion of the merger and based on the subsequent trading price of Essendant shares. Essendant said there is no assurance that the GPC merger agreement will be amended to incorporate this proposal.
Essendant said the merger agreement with GPC remains in effect and that the Essendant board has not changed its recommendation that its shareholders vote in favor of the transaction. There is no assurance that the merger agreement will be amended to incorporate GPC's May 7 proposal. The merger agreement is a Reverse Morris Trust transaction that will result in GPC shareholders owning approximately 51 percent of the combined company and Essendant shareholders owning approximately 49 percent. The deal values S.P. Richards at approximately $680 million and includes a $347 million one-time cash payment to GPC. The transaction is expected to complete before the end of 2018.
Essendant had 2017 full-year sales of $5.04 billion, while S.P. Richards' 2017 revenue was $2.0 billion.
The newly-combined company will be called Essendant, and be led by Essendant president and CEO Ric Phillips, while Essendant CFO Janet Zelenka will hold that same position as well. S.P. Richards President and CEO Rick Toppin will be appointed COO of the combined company, and additional leadership roles will be mutually determined as part of the integration process. The combined company will maintain headquarters in both Deerfield, IL and Atlanta, GA.
The Staples' offer further shows the company's desire to expand in the B2B supply market and put less emphasis on its retail operations. Shortly after Sycamore bought Staples, Sycamore reportedly restructured the company into into three segments: U.S. retail, Canadian retail and corporate supply segments.
In the Spring of 2017, Staples debuted a rebranding aimed at professional customers. The company's "It's Pro Time" marketing campaign addressed small and mid-sized businesses as well as enterprise customers.
"Sycamore's offer is the clearest indication to date of its plans to push Staples further into business-to-business services and away from its challenged retail business," CNBC stated Wednesday. "Sycamore structured its $6.9 billion acquisition of Staples in a way that would allow it to eventually wind down Staples' weaker retail operations."
In its 2018 first quarter earnings report shared April 25, Essendant has Q1 sales of $1.24 billion — down 2.4 percent year-over-year, following Q4 2017's decline of 4.5 percent. The company's Industrial segment was one of its bright spots, as sales of $155.6 million increased 5.7 percent YoY. The rest of Essendant's Q1 sales breakdown was:
JanSan products: decreased 5.0 percent to $328.2 million

Technology products: decreased 0.8 percent to $314.7 million

Office products: decreased 9.6 percent to $179.0 million

Cut-sheet Paper products: increased 12.6 percent to $119.5 million

Automotive products: increased 2.8 percent to $81.0 million

Office furniture: decreased 18.4 percent to $58.8 million
Essendant took a Q1 net loss of $51.4 million, in large part due to restructuring costs that include facility consolidations and workforce reductions. Essendant expects full year 2018 sales to be down 3 to 5 percent YoY.
Former Coca-Cola executive vice president Sandy Douglas took over as Staples CEO on April 2, following the departure of Shira Goodman after 16 months as Staples' chief executive.