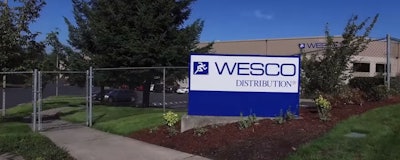 Pittsburgh, PA-based electrical and industrial products distributor WESCO International reported its 2018 first quarter financial results on Thursday, showing considerable year-over-year (YoY) gains in sales and profit.
The company posted Q1 total sales of $2.0 billion, up 12.5 percent YoY, with organic sales up by 10.9 percent. That's the company's best core sales growth in seven years, as all end markets and geographies saw an increase.
WESCO had a total Q1 profit of $44.4 million, up from $37.7 million a year earlier. Q1 operating profit of $73.2 million grew from $66.6 million a year earlier, while gross profit of $379.9 million increased from $350.0 million a year earlier.
"After returning to above-market sales growth in the second half of last year, our top priority was to return to profitable growth in 2018, and we are off to a good start in the first quarter," WESCO chairman, president and CEO John Engel said. "Sales growth momentum has continued in April, and we expect the favorable economic conditions and the positive growth in our end markets to continue this year. Our plan includes continued above-market performance, execution of our profitable growth initiatives, investments in our people and processes, and maintaining our cost and cash management discipline."
WESCO's organic sales returned to growth in Q2 2017 at +1.0 percent and has been strong ever since. Organic growth was 8.6 percent in Q3 2017 and 10.1 percent in Q4. In Q1 2018, organic sales grew by 9 percent in January, 14 percent in February and 11 percent in March. Q1 organic sales were up 10 percent in the U.S; up 10 percent in Canada and up 24 percent in International.
WESCO's markets & customers breakdown at the end of Q1 was:
Industrial - 37%
Construction - 33%
Utility - 16%
CIG (Commercial/Institutional/Government) - 14%
WESCO's products & services breakdown was:
General supplies - 40%
Communications & Security - 15%
Wire, Cable & Conduit - 15%
Lighting & Sustainability - 12%
Electrical Distribution & Controls - 10%
Automation, Controls & Motors 8%
In WESCO's Industrial segment, Q1 sales of $762 million grew 11.9 percent YoY and grew 2.4 percent sequentially. Q1 organic sales grew 10.4 percent YoY, including 9 percent growth in the U.S. and 17 percent growth in Canada. Q1 Construction sales of $640 million grew 11.5 percent YoY, with organic sales up 9.4 percent.
WESCO raised its full-year 2018 sales growth outlook to a range of 5 to 8 percent,