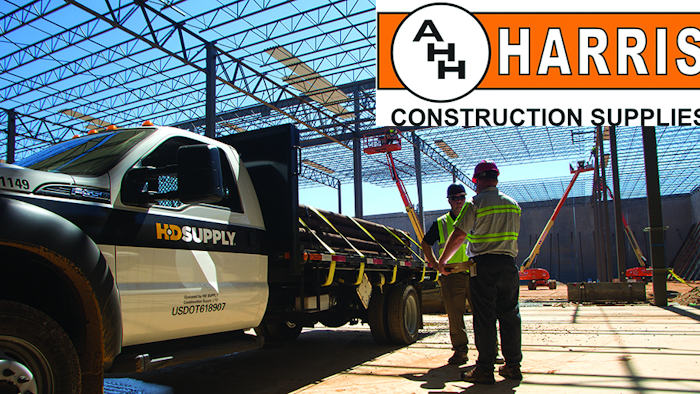 When HD Supply announced the $2.5 billion sale of its Waterworks segment in August 2017, it said the transaction would allow the company to focus on its highest value segments — Construction & Industrial (C&I) and Facilities Maintenance (FM) — and create additional funds to enable future growth investments.
HD supply appears to be following on that message, on Wednesday announcing that it has agreed to spend $380 million to purchase Hartford, CT-based A.H. Harris Construction Supplies, a specialty construction distributor in the northeast and mid-Atlantic regions.
HD Supply — No. 4 on Industrial Distribution's Big 50 List — says the transaction will close during its fiscal first quarter of 2018, subject to regulatory approvals. 
With the acquisition, HD Supply will gain A.H. Harris Construction Supplies' more than 50 branches across 12 U.S. states. A.H. Harris had 2017 sales of approximately $380 million. The company was founded in 1916
"We are committed to investing in our business to continue to enhance our offering and customer experience," said John Stegeman, President, HD Supply Construction & Industrial. "The strategic addition of A.H. Harris perfectly aligns with our One Team culture and our commitment to provide the best mix of products, value-added services and expert solutions for our customers across our priority local markets."
The acquisition considerably strengthens HD Supply Construction & Industrial – White Cap, particularly its market presence in the northeast U.S. HD Supply C&I says it has approximately 220 locations in North America with more than 4,800 full-time employees. It operates three companies: HD Supply White Cap, HD Supply Brafasco and HD Supply Home Improvement Solutions.
"HD Supply will continue to focus on extending its position through disciplined organic growth execution and by selectively acquiring complementary companies such as A.H. Harris," stated Joe DeAngelo, CEO of HD Supply. "We are excited to welcome the A.H. Harris associates to our HD Supply family."
HD Supply describes A.H. Harris as supplying construction products and equipment for contractors, construction companies and government entities in the concrete construction, repair and restoration, road and bridge, rebar and rebar fabrication, waterproofing and glazing markets. According to A.H. Harris' website, it has more than 600 employees, represents more than 500 manufacturers and carries 13,000+ products.
"We are committed to investing in our business to continue to enhance our offering and customer experience," said John Stegeman, President, HD Supply Construction & Industrial. "The strategic addition of A.H. Harris perfectly aligns with our One Team culture and our commitment to provide the best mix of products, value-added services and expert solutions for our customers across our priority local markets."