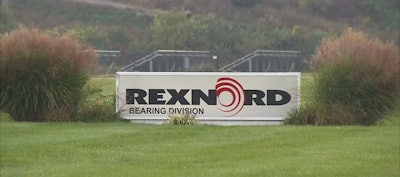 Milwaukee-based bearings maker Rexnord confirmed Monday that it will close its Indianapolis production facility and move its work to a plant in Mexico. The decision was announced in October but made official this week.
According to the Associated Press, the Indianapolis plant on the city's west side employs 290 members of Steelworkers Union Local 1999, plus salaried workers. The company expects to begin shutting down the plant in April and said the process will take about two months to complete.
Rexnord said the move will save the company an estimated $15.5 million during its first full year, with those savings expected to increase by $200,000 per year afterward.
"Today, Rexnord and the union came to the mutual agreement to move past our tentative decision and into the next stage of negotiations," a company spokesman said Monday. "Decisions like these are extremely difficult and we recognize the impact on our associates, their families and the Indianapolis community."
Indianapolis Mayor Joe Hogsett voiced his thoughts on the decision:
"I am incredibly disappointed in Rexnord's decision to disregard the experience, the investment, the sacrifice and the good faith efforts of their long-time employees with the decision to uproot this plant and move 300 good-paying Indianapolis jobs to Mexico," he said.
In its fiscal second quarter report shared Nov. 2, Rexnord had a profit of $24.6 million, up from $22.6 million a year earlier.