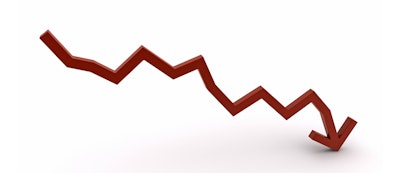 The Industrial Supply Association has posted its July Economic Indicator report, which showed considerable declines in both the ISA Distributors and Manufacturers Indexes.
The Distributors Index dropped 15.5 points from June to a July reading of 44.9 — by far its lowest reading of the past 12 months, with a margin of 5.9 over November 2015's 54.2. It was also its largest month-over-month decline of the past 12 months bar far. The decline followed a 6.5-point drop from May to June.
Likewise, ISA's Manufacturers Index dropped 10.5 points from June to a July reading of 48.6 — also its lowest 12-month reading by far, with a 3.7-point margin over December 2015's 54.2. The decline followed a 2.3-point gain from May to June.
Meanwhile, the Producer Manufacturing Index (PMI) dipped by 0.6 points to a July reading of 52.6. While still the PMI's second-highest 12-month reading, the decline followed a strong 1.9-point May-to-June jump.
For each index, a reading above 50 percent indicates expansion, while a reading below 50 percent indicates contraction. So while the PMI indicates that the overall industrial economy continues to expand — though at a slower pace — it had an abrupt shift to contraction for industrial distributors and manufacturers.
"For the first time in a very long time, ISA's indexes have dropped below 50 indicating a contracting economy!" ISA said in its report. 'While projections for August seem positive, not many share that impression."
Distributors indicated large month-over-month declines across the board of the index, including in New Orders, Business Activity, Supplier Deliveries, Inventories, Sales Revenue and Anticipated Business Conditions. Most distributors had two less business days in July 2016 than in 2015, which negatively impacted figures.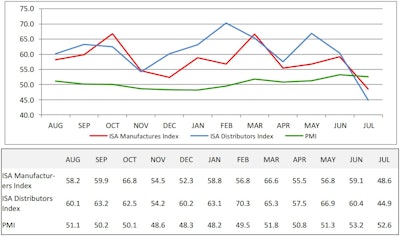 Here's a collection of comments from industrial distributors that were included in the index:
"This is the first year since 2013 that any month revenues was lower than than the same period/last year."
"Tough, tough times."
"Two less working days coupled with summer shutdowns certainly had an impact."
And here's a collection of manufacturer comments:
"We hit bottom for the year in July in all aspects. We normally expect July to be somewhat slower due to the holiday, plant closings, vacations, etc., but this year was a 4-year low. Several large accounts were all off substantially. Are we in a recession? We expect a much better August but time will tell."
"Two fewer shipping days than July a year ago. However, there is a noticeable decline in inbound orders."
"July was better than June, but the overall outlook is still bleak."
'Very slow July. Now hearing both distributors and end users are either cutting back on attending IMTS or will not attend. Non oil & gas cutting tool sales are down for the year 10 to 15%."
"Tough summer, hope September comes back. July was one of the worst months we can remember."
"Y-O-Y orders are down 27% but that percentage continues to decline with each passing month. Weekly average orders were the highest in July for 2016, but shipments were the lowest as we navigate swings in the backlog vs. our lead times. I hope we can maintain the rebound we have seen over the past 3-4 months in our order intake levels."