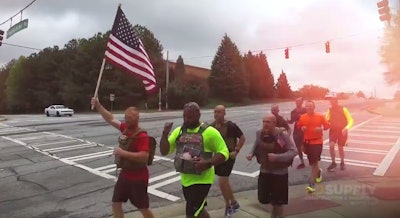 ST. LOUIS — HD Supply Waterworks, a business unit of HD Supply, recently hosted the Shepherd's Men at five branches during the 15-member team's nine-day run to raise awareness and this year's goal of $1 million for the Shepherd Center's SHARE Military Initiative. HD Supply is a proud sponsor of the "Shepherd's Men" run for the second consecutive year.
"Our team was honored to host the Shepherd's Men at five locations along their route," said Steve LeClair, HD Supply Waterworks president.
The nine-day-long run, which began in Boston on March 26 and concluded in Atlanta on April 3, brought together a 15-member team of servicemen, one civilian and honorary member Joe DeAngelo, HD Supply's Chairman and CEO, to run 13.7 miles each day to raise awareness and funds for the Shepherd Center's SHARE Military Initiative. This initiative is a comprehensive rehabilitation program that focuses on assessment and treatment for servicemen and women who have sustained a mild to moderate traumatic brain injury (TBI) and post-traumatic stress disorder (PTSD) from the Afghanistan and Iraq wars. The Shepherd's Men completed each leg of the run while wearing 22-pound flak vests and armor plates, simulating the gear worn by U.S. military troops while in the field and symbolizing the mental hardships many experience after returning from combat.
"When offered to host the kick-off event of the Shepherd's Men Run at my branch in Dedham, MA, I had absolutely no hesitation," said Dick Madden, HD Supply Waterworks regional branch manager. "We were thrilled to meet and speak with these selfless men who have already sacrificed so much with their long-term commitment to military service."
HD Supply Waterworks branch manager Daniel Hunter of Murfreesboro, TN, hosted an event at his branch said, "We all owe them a debt that can't truly be repaid."
The Shepherd's Men goal is to raise $1 million this year, of which, 100 percent of the proceeds will be used for the SHARE Military Initiative. Visit shepherdsmen.com for more information and to make donations.
HD Supply was No. 4 on Industrial Distribution's 2015 Big 50 List.