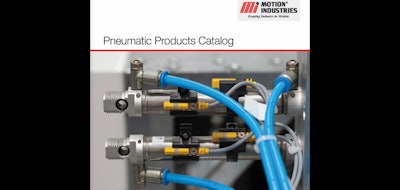 BIRMINGHAM, AL — MRO distributor Motion Industries – No. 10 on Industrial Distribution's 2015 Big 50 List – has launched its first online Pneumatics Catalog. With the needs of its customer base in mind, Motion created this catalog by starting with its broad pneumatic product offering and narrowing it down to just over 1,800 commonly ordered items organized into 13 subcategories - so customers can easily and quickly select what they need.
"This interactive catalog is meant to be a go-to solution for anyone who works with pneumatics, especially in certain industries like food and packaging, automotive, or iron and steel," said Randy Breaux, Motion Industries' Senior Vice President of Marketing, Distribution, and Purchasing. "We believe the catalog will fill a niche of sorts, because there aren't many user-friendly pneumatics catalogs out there featuring content based on everyday need."
Offering more than basic pneumatic items, the catalog goes in deeper in several product lines such as valves and actuators. Major brands such as SMC, ASCO, and Aventics are represented, and detailed specs, full-color photos, and descriptions accompany each listing. The item numbers are linked to www.motionindustries.com to make ordering quick and convenient for customers.
The technical reference section allows the user to easily calculate the size of cylinders, actuators, and valves to meet specific application requirements. There is additional electrical information regarding the operation of actuator auto switches and pressure switches. The reference also allows for easy conversions between metric and English units.
In addition to being both desktop- and mobile-friendly, the catalog's E-Reader format allows users to share pages that interest them with others across all social media outlets.