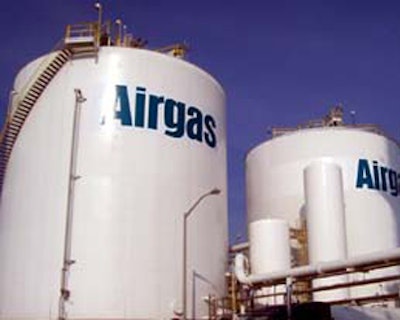 Radnor, PA-based Airgas, Inc., No. 8 on Industrial Distribution's 2014 Big 50 List, reported its third quarter financial earnings on Tuesday for the period ended Dec. 31, 2014.
The numbers were highlighted by a 7.2 percent year-over-year sales increase to $1.33 billion, beating Thompson Reuters estimates of $1.31 billion. Organic sales were up 6 percent. Gas and rent sales were up 5 percent, and hardgoods gained 6 percent. Acquisitions contributed sales growth was 1 percent.
The company reported a quarterly profit of $93.2 million, a healthy gain from $82.76 million in the same period a year ago. Operating margin narrowed by 30 basis points to 12.2 percent, while selling, distribution, and administrative expenses increased 5 percent.
"Organic growth in both hardgoods and gases were in line with our expectations, and earnings were in the middle of our guidance range," said Airgas President and Chief Executive Officer Michael L. Molinini. "Although softness persists in some sectors, our welder and generator rental business and sales to transportation equipment manufacturers remained strong, and we saw an uptick in our downstream energy and non-residential construction segments."
Molinini said that Airgas has cut its sales growth expectations for the current quarter, crediting the rise of the U.S. dollar and the previous dramatic drop in oil prices. For Q4 2015, Airgas expects 7 to 11 percent earnings growth, and 6 to 7 percent growth for the full fiscal year 2015.
"Notwithstanding the near-term uncertainty in the energy sector, we still believe the fundamentals for long-term economic growth in the U.S., where 98 percent of our revenue is derived, will be favorable for years to come," said Airgas Executive Chairman Peter McCausland. "We believe that any drag experienced from lower oil prices, either direct or indirect, will ultimately be mitigated by the positive effect on other industries and increases in consumer spending. Given our large and diverse customer base, on balance, we expect lower oil prices will be beneficial to Airgas over time."