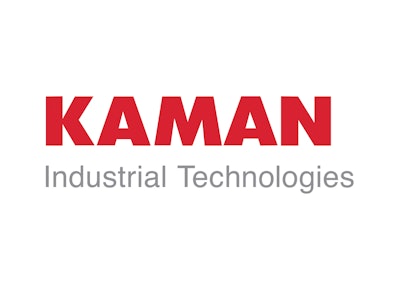 Kaman Corp. reported its 2014 fourth quarter and full year financials on Monday for the period ended Dec. 31, 2014. Kaman's Distribution segment, Kaman Industrial Technologies, is No. 20 on Industrial Distribution's 2014 Big 50 List.
Kaman's Q4 had sales of $477.9 million, a 10.9 percent year-over-year increase. Distribution sales increased 16.3 percent to $302.7 million, while Aerospace sales increased 2.57 percent to $175.2 million. Operating income from Distribution increased 24.8 percent to $14.3 million, and operating income from Aeroespace increased 30.9 percent to $14.3 million. Total operating income increased 31.1 percent YOY to $33.2 million. Adjusted EBITDA for the quarter was $43.15. Net earnings for Q4 were $15.06 million, a 17 percent YOY increase.
Neal J. Keating, Chairman, President and Chief Executive Officer, stated, "Distribution had strong organic sales growth* of 4.8 percent during the fourth quarter, our fifth consecutive quarter of organic sales growth and our highest rate of growth since the third quarter of 2011. Our investment in our sales force expansion was accretive in the quarter and the results for the quarter speak to the importance of this initiative towards achieving growth rates in line with our long-term goals. During the quarter we divested Distribution's Mexico operations, increasing the focus on our core strategy of building out product platforms in the U.S. and delivering improved operating performance."
Kaman Corp. had 2014 full year net earnings of $57.8 million, a 1.35 percent increase over 2013.
For the full year, Kaman's Distribution segment had net sales of $1.16 billion, an 11.7 percent increase over 2013. Distribution operating income for the year was $46.2 million, a 22.9 percent increase. The increase in Q4 sales resulted from $25.8 million in sales from acquisitions and an increase of $16.7 million in organic sales, and the increase in operating income in the fourth quarter was driven by higher rebate income and contributions from our 2014 acquisitions.
The increase in sales for the full year resulted from $89.4 million in sales from acquisitions and an increase of $32.7 million in organic sales. The increase in operating income for the full year was driven by the contribution of operating income from 2014 and 2013 acquisitions, the absence of $2.8 million of restructuring costs, lower pension expense and higher rebate income. These increases were partially offset by higher operating expenses, primarily related to higher employee related incentive costs and an increase in salary and wage expense associated with the expansion of our sales force.
Chief Financial Officer, Robert D. Starr, commented, "For 2015 we expect strong sales growth at Distribution and low single digit growth at Aerospace. Similar to 2014, we anticipate quarterly earnings to increase sequentially throughout the year, with approximately 60 percent to 65 percent of our full year earnings in the second half. Finally, we anticipate another outstanding year of free cash flow generation in 2015."
For its 2015 outlook, the company said it expects Distribution segment sales of $1.25 billion to $1.28 billion in 2015, with operating margins of 4.9 to 5.2 percent. It expects 2015 Aerospace segment sales of $635 million to $655 million, with operating margins of 16.8 to 17.2 percent.
Kaman Industrial