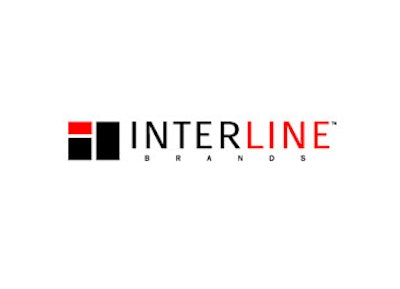 Jacksonville, FL-based Interline Brands, a broad-line MRO distributor to the facilities maintenance end-market, on Wednesday reported its sales and earnings for the 2014 fourth quarter and full-year, ended Dec. 26.
Interline Brands is No. 17 on Industrial Distribution's 2014 Big 50 List.
The report was highlighted by a Q4 year-over-year sales increase of 6.6 percent to $415.8 million, while the company took a net loss of $9.6 million. Interline had a profit gain of $7.2 million in Q3, and a gain of $1.17 million in Q4 of 2013. Selling, general and administrative expenses increased 22 percent YOY to $134 million.
Sales to institutional facilities customers increased 6.7 percent, sales to multi-family housing facilities customers increased 10.0 percent, and sales to residential facilities customers increased 3.2 percent.
Kenneth D. Sweder, President and Chief Operating Officer, commented, "We continue to make exciting progress integrating our institutional brands, most notably completing the JanPak systems integration. We now look forward to unveiling our new national institutional brand shortly, which is an important milestone that signifies our leadership position in the institutional facilities maintenance market, complemented by a full and differentiated suite of products, leading national account and supply chain capabilities, robust procurement technologies and a large and expert sales force. All of these capabilities come together to provide our customers with a compelling value proposition that we believe is unique in the industry."
For the full year, 2014 sales were $1.68 billion, a 4.9 percent increase over 2013. The company reported a net loss of $47 million, after a loss of $6.34 million in 2013.
Full year sales to institutional facilities customers, multi-family housing facilities customers, and residential facilities customers increased 5.6 percent, 6.4 percent and 1.9 percent, respectively, for the fiscal year ended Dec. 26, compared to a year ago. Sales breakdown for institutional facilities, multi-family housing facilities, and residential facilities was 49.8 percent, 30.3 percent, and 19.9 percent, respectively.
Michael J. Grebe, Chairman and Chief Executive Officer, commented, "Overall, 2014 was a transformational year as we continued to make foundational improvements across our business in technology, supply chain programs, salesforce capacity and productivity, and most importantly, our customer value proposition. As indicated by our performance for the fourth quarter and the full year, these investments continue to drive strong financial results, and position us for continued growth. As we move into 2015, we enter the new year with increasing confidence, and look to build on our momentum and enhanced competitive position across all of our facilities maintenance end-markets."