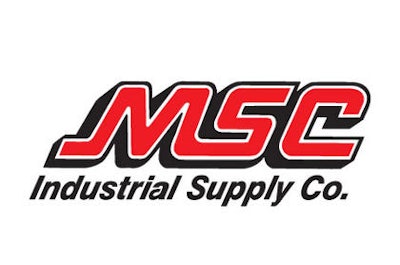 MSC Industrial Supply, No. 14 on Industrial Distribution's 2014 Big 50 List, reported its 2015 second quarter financials on Wednesday for the period ended Feb. 28.
Q2 net sales of $706.4 million were up 6.8 percent year-over-year from Q2 2014, and net profit improved to $51.5 million from $49.5 million last year, but the results were still disappointing for MSC. The company had projected income to be between $717 million to 729 million, citing tumbling oil prices and soft export demand for the shortcoming.
Erik Gershwind, President and Chief Executive Officer, stated, "We have seen a significant and swift change in the demand environment since the start of the calendar year due to the impact of the rapid drop in oil prices, softening export demand and poor weather. Our double-digit growth in National Accounts and Government continued, while our Core customers lagged the Company average in the fiscal second quarter. Our growth rates were solid in December, improved in January, and then dropped significantly in February as the environment deteriorated."
MSC expects Q3 net sales to be between $740 million and $752 million.
On Monday, MSC announced it is significantly expanding its Hertel line of metalworking products. This expanded offering features a wide range of new tools, including material-specific turning insert grades, spotting drills, combined drill and countersink tools, as well as additional solid carbide roughing end mills. In addition to these enhancements, a threading solution has been added to the company's proprietary cutoff and grooving system to help drive greater efficiencies.
"We are constantly looking for opportunities to bring new solutions to market that will not only meet our customers' needs, but help them optimize their businesses," said Brian McGrath, MSC's Senior Product Manager for Hertel. "We recognized the need for more enhanced lines of Hertel tooling in response to our customers evolving needs. Hertel is synonymous with performance, increased productivity, cost control and profitability, and it was our goal to give them more selection to achieve their business goals."